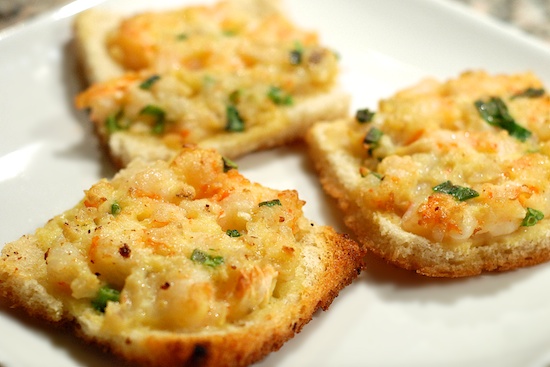 I host Christmas Eve dinner every year and I typically put out a platter of shrimp cocktail for an appetizer, but I wanted to do something different this year so I decided to try shrimp toast. I thought they were delicious – a tiny bit on the greasy side because they're lightly fried in canola oil, but delicious nonetheless. I received lots of compliments on them and every single one was eaten, which in my book is a good thing.  I was told that they tasted just like an appetizer from a Chinese restaurant.
Next time I make these, I'll cut the squares in half and serve shrimp toast triangles. I'll also fry them in a little less oil. This time I used slightly less than 1/4″ on the bottom of the pan. I'll definitely use less next time and add more to the pan as needed during the cooking. I doubled the recipe and I probably could have tripled it. The recipe calls for day-old bread. I didn't have any, so I used a fresh loaf of bread. I probably should have toasted it because I don't think bread sops up oil when its toasted as much as it sops up the oil when the bread is fresh.
You can freeze these once they are cooked.  To reheat, put them in a 350 degree oven until they are warm.
Aunt Mary's Marvelous Shrimp Toast
Recipe from Angela LaGreca


1 egg slightly beaten
4-5 water chestnuts – chopped
1 teaspoon dry sherry
6 slices day old bread [trim the crust—Pepperidge Farm is the best]
1 heaping tablespoon thinly sliced scallions  (use the green part)
1/2 teaspoon salt
1/2 teaspoon sugar
1/2 lb shrimp – cut into small pieces
1 tablespoon corn starch
Canola oil or vegetable oil for frying

Mix all ingredients together in a bowl. Spread on bread to the edges. Fry in shallow oil (no more than ¼ of an inch) for 30 seconds, filled side down first, then fry on empty side until the bread is golden. Drain well on paper towels. Serve warm.

Yield: 6 toasts
One year ago: Chocolate Malted Whopper Drops

Print This Recipe