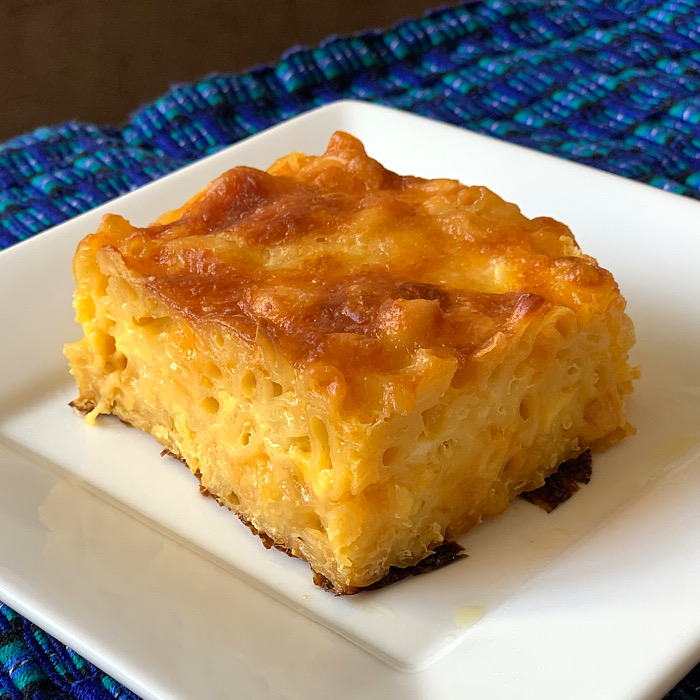 I have an aunt who moved to South Carolina a couple of years ago. She is a voracious reader and she knows that I love to cook, so every month or so I receive a bulging padded envelope full of recipes that she has torn out of newspapers and magazines. I love receiveing them! This is one of those recipes. It came from a southern newspaper called the Post and Courier on January 29, 2020. The newspaper was holding a reader-recipe contest and this was one of the submissions. Since I only received the recipe itself, torn from the newspaper, I don't know if it won. If I had been part of the judging panel, I definitely would have voted for it.

Although called macaroni pie, this is really macaroni and cheese with the addition of a bunch of eggs. I have a macaroni and cheese aficionado in the house and he gave this a double thumbs-up. This is the easiest macaroni and cheese I have ever made.

Thanks for the recipes, Aunt Sylvia!




Macaroni Pie
Recipe from G. Hamlin O'Kelley via The Post and Courier

1 16-ounce box elbow macaroni, cooked according to package directions and drained
1 pound sharp cheddar cheese, grated by hand
6 eggs
2 1/2 cups milk
1 1/2 teaspoon salt
Big pinch of sugar
6 tablespoons butter, melted, plus 1 teaspoon to grease dish

Preheat oven to 350 Fahrenheit.

Grease a casserole dish with butter. Don't skimp. Place half of the cooked noodles in a layer on the bottom of the casserole. Cover with half of the grated cheddar. Repeat with the remaining noodles and cheese.

In a mixing bowl, beat eggs, and then add milk, salt and sugar. Mix well. To that add the melted butter, which will congeal in the milk mixture. That's the secret. Pour the milk mixture over the noodle and cheese in the casserole dish. 

Place casserole on a cookie sheet and bake for 45 minutes or until the milk and eggs set. If it gets too dark in the last 10-15 mins, cover loosely with foil. Let casserole rest for at least 10 minutes before serving.

Yield: 12 servings




One year ago:  Excellent Blondies
Two years ago:  Black Bean Salad
Three years ago:  Frozen Coconut Limeade
Four years ago:  Fudge-Striped Shortbread Cookies
Five years ago:  Sautéed Edamame Salad
Six years ago:  Chock-Full-of-Chips Drops
Seven years ago:  Provençal Cherry Tomato Gratin
Eight years ago:  Black Bean and Pepper Jack Burgers
Nine years ago:  Carrot-Coconut Milk Soup
Ten years ago:  Shortbread Cookies
Eleven years ago:  Snickerdoodle Blondies
Twelve years ago: Whole Grain Buttermilk Pancakes

Print This Recipe