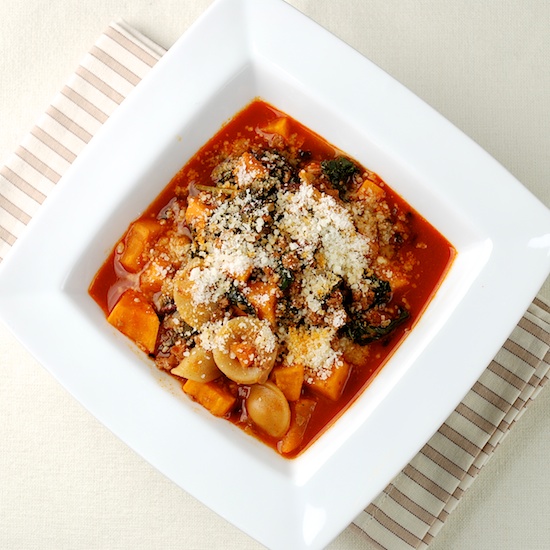 Sometimes I make a soup and it immediately displaces all others as my favorite. This is one of them. It's now at the top of my list. I knew from the ingredient list that it had great potential, but in this case the whole is definitely greater than the sum of its parts.
Instead of Italian sausage, I decided to use Trader Joe's vegetarian chorizo. My friend Jini told me about it and I have been dying to try it. When it came out of the casing, it didn't have the consistency of meat, but it fried up nicely in the pan with the onions and garlic. In the soup, you'd never know it wasn't meat. It's pretty spicy and added some nice heat to the soup.
I bought the greens for the soup at Trader Joe's as well. They have a mix called Power Greens. It's a mixture of spinach, kale and swiss card. I dumped two 6 oz. bags into the soup, and next time I might add a third bag. I do love greens in soup, and the pieces in the Trader Joe mix are the perfect size. No chopping necessary. If I had used vegetable broth, this soup would have been entirely vegetarian!
Of course the boys didn't want any of this, so there's a lot left for leftovers. Tomorrow's lunch is going to be delicious!
 Sweet Potato and Sausage Soup
Recipe from Martha Stewart via Shutterbean

1 tablespoon olive oil
1 large yellow onion, diced
3 large cloves garlic, minced
salt and pepper
1 lb. sweet Italian sausage, casings removed
2 sweet potatoes (1 pound total), peeled and cut into a medium dice
4 cups chicken broth
1 cup small pasta shells
6 cups chopped mixed greens (I used half spinach half kale)
grated Parmesan for serving

In a large pot, heat oil over medium-high heat. Add onion and garlic and cook until onion is translucent, about 6 minutes; season with salt & pepper. Add sausage and cook, breaking up meat with a wooden spoon until browned, about 5 minutes.

Add sweet potatoes, broth, and 2 cups water and bring to a boil. Add pasta and cool 3 minutes less than package suggests. Reduce to a simmer, add greens and cook until pasta is tender and greens are wilted, about 4 minutes. Serve with Parmesan (be generous with it if you like cheese).

Yield: 6 servings

One year ago: Indian-Style Mustard Greens
Two years ago: Vietnamese Style Chicken Salad
Three years ago: Orange Scones with Chocolate Chips
Four years ago: Sugar Cookie Bars
Five years ago: Whole Grain Buttermilk Pancakes

Print This Recipe