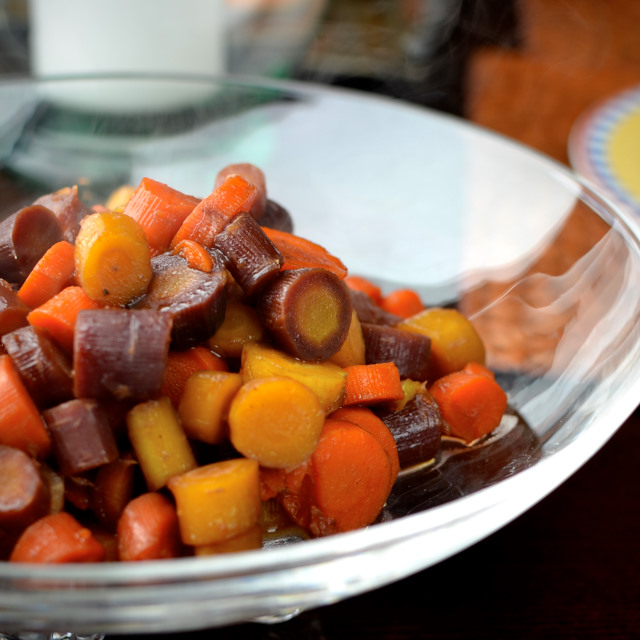 If you're looking for an incredibly simple side dish that tastes delicious – this is it! This recipe takes no time at all to prepare and it's a perfect side dish to serve with almost any type of meat or fish.
This recipe calls for whole carrots sliced lengthwise. I recommend using baby carrots – it's a huge time saver.
One of the things I like about this recipe is that it's just as good with or without the cayenne pepper. When I make the recipe for adults, I add a little more than 1/8 teaspoon. When I make it for the boys, I leave the cayenne pepper out altogether. Our boys are not vegetable eaters, but I was sure that they'd like these carrots. Nope. I made each of them try one and I succeeded in getting three of the four to try them and one to smell them. They all rejected them, but that's not going to stop me from presenting these carrots periodically as part of dinner. One of these days they're bound to come around.
Candied Carrots
From Real Simple: Meals Made Easy

4 tablespoons unsalted butter
1/4 cup maple syrup
1/4 teaspoon kosher salt
1/8 teaspoon cayenne pepper
1 1/2 pounds carrots, halved lengthwise
1/8 teaspoon black pepper

Melt the butter in a large saucepan over medium heat. Add the maple syrup, salt, cayenne, and 1/4 cup of water and bring to a boil. Add the carrots and return to a boil. Reduce heat and simmer, turning occasionally, until the carrots are tender and the liquid has reduced to a glaze, 15 to 20 minutes. Season with the black pepper.