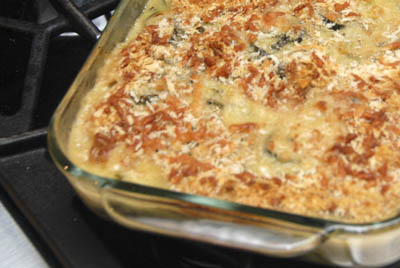 I grow a small vegetable garden in the summertime and one of the things I recently started to plant was zucchini. You need a lot of room to grow zucchini, and I tend to have quite a bit of zucchini towards the end of the summer. I don't think of making this recipe in the summer because it has to bake in a hot oven for a while, but I often think of making it in the winter when I want the oven on.
This zucchini gratin makes an excellent side dish, and it can also serve as a great lunch. I ate a plate of it twice this week for lunch, and I would have happily had more, but it was gone before I had the opportunity. I have served this a number of times at dinner parties and it has always gotten rave reviews.
You'll notice in the picture that the top of my zucchini gratin is browned. This is because I didn't have enough plain breadcrumbs when I was making the recipe, so I had to use a mixture of regular breadcrumbs and Panko. The Panko is what browned nicely on the top of the gratin. Next time I might use all Panko.
Zucchini Gratin
Adapted from The Barefoot Contessa Cookbook

4 tablespoons (1/2 stick) unsalted butter, plus extra for topping
1 pound yellow onions, cut in 1/2 and sliced (3 large)
2+ pounds zucchini, sliced 1/4-inch thick (~4 zucchini)
1 1/2 teaspoons kosher salt
1 teaspoon freshly ground black pepper
1/4 teaspoon ground nutmeg
2 tablespoons all-purpose flour
1 cup hot milk
3/4 cup fresh bread crumbs
3/4 cup grated Gruyere


Preheat the oven to 400 degrees F.

Melt the butter in a very large (12-inch) saute pan and cook the onions over low heat for 20 minutes, or until tender but not browned. Stir frequently while cooking. Add the zucchini and cook, covered, for 15 minutes, or until tender. Add the salt, pepper, and nutmeg and cook uncovered for 5 more minutes. Stir in the flour. Add the hot milk and cook over low heat for a few minutes, until it makes a sauce. Pour the mixture into an 8 by 10-inch baking dish.

Combine the bread crumbs and Gruyere and sprinkle on top of the zucchini mixture. Dot with 1 tablespoon of butter cut into small bits (I actually leave the extra butter out) and bake for 20 minutes, or until bubbly and browned.