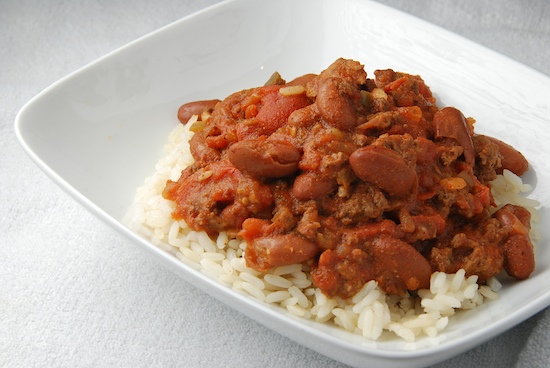 I've made this a couple of times now and it's my favorite chili recipe, and I've tried lots of them. I've made Texas chili, turkey chili, white chili, and my mom's chili and this is my hands-down favorite. I made a double batch last weekend for the Jets-Indianapolis playoff game. We had a couple of friends come over to watch it. It was a great game despite the outcome. Mark my words, the Jets will be in the Superbowl next year.
This chili is mildly spicy, a tiny bit sweet and very tasty. You can play with the heat by adding more or less jalapeno, but I thought a single jalapeno per batch was perfect. That said, I prefer things mildly spicy. Next time I might up the number of jalapenos because my husband likes things REALLY spicy.
We ate quite a bit of the double batch that I made last weekend, but I had some left over to freeze. It freezes very well. I can't wait to defrost it.
The red wine adds a nice dimension to the chili. I used a pinot noir this time and the previous time I used a merlot. Both batches were great.

All American Chili
Recipe from Cooking Light

6 ounces hot turkey Italian sausage
2 cups chopped onion
1 cup chopped green bell pepper
8 garlic cloves, minced
1 pound ground sirloin
1 jalapeño pepper, chopped
2 tablespoons chili powder
2 tablespoons brown sugar
1 tablespoon ground cumin
3 tablespoons tomato paste
1 teaspoon dried oregano
1/2 teaspoon freshly ground black pepper
1/4 teaspoon salt
2 bay leaves
1 1/4 cups Merlot or other fruity red wine
2 (28-ounce) cans whole tomatoes, undrained and coarsely chopped
2 (15-ounce) cans kidney beans, drained
1/2 cup (2 ounces) shredded reduced-fat sharp cheddar cheese



Heat a large Dutch oven over medium-high heat. Remove casings from sausage. Add sausage, onion, and the next 4 ingredients (onion through jalapeño) to pan; cook 8 minutes or until sausage and beef are browned, stirring to crumble.

Add chili powder and the next 7 ingredients (chili powder through bay leaves), and cook for 1 minute, stirring constantly. Stir in wine, tomatoes, and kidney beans; bring to a boil. Cover, reduce heat, and simmer 1 hour, stirring occasionally.

Uncover and cook for 30 minutes, stirring occasionally. Discard the bay leaves. Sprinkle each serving with cheddar cheese.

Yield:  6 – 8 servings

Print This Recipe