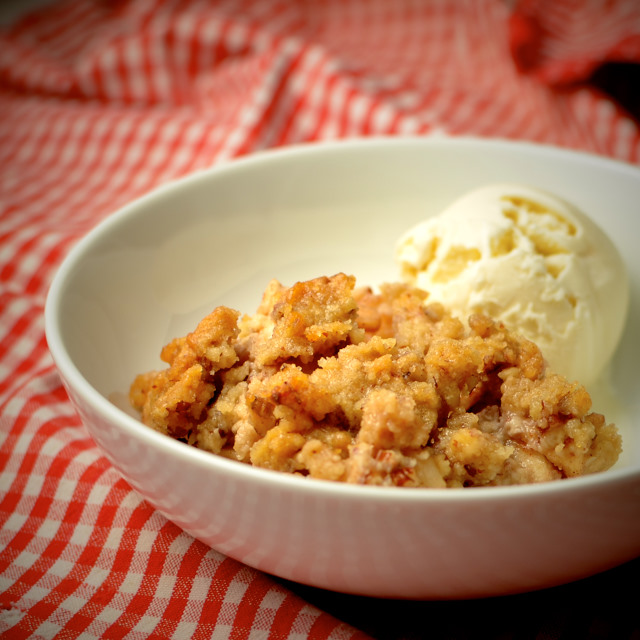 I have made a number of different apple crisps over the years, and this is by far my favorite. It's simple, with no funny additions like Ina Garten's lemon and orange zest or Al Roker's Chinese 5-spice powder. It's basically apples with cinnamon, sugar, nuts and butter. So simple, yet so delicious.
I don't think you can serve a more perfect fall dessert than a warm apple crisp topped with vanilla ice cream. This dessert cooks for a long time, so your home will smell wonderful as it bakes.
If you're wondering what the difference between an apple crisp and an apple crumble is, there isn't much difference. Both refer to a baked apple dessert with a streusel topping. Here in the US, we tend to call them apple crisps. In the UK, they tend to call them apple crumbles. An apple cobbler is different; it has a biscuit top.
Jens, my college buddy, was visiting NYC when I made this apple crisp. He peeled the apples as only an engineer could. I have to say, it was very efficient. The next time I made this dessert, my son couldn't wait to peel the apples. He has never before shown much interest in cooking with me, but with the addition of a power tool, he was all over it.
Apple Crisp
Recipe from FineCooking.com

For the filling:
2-1/2 lb. apples (about 6 medium), peeled, quartered, cored, and sliced to yield about 6 cups
2 to 3 Tablespoons granulated sugar
1/4 teaspoon ground cinnamon
1 Tablespoon all purpose flour

For the crisp topping:
1 cup all-purpose flour
5 Tablespoons brown sugar
2 Tablespoons granulated sugar
1/2 cup finely chopped nuts (I like pecans)
4 oz. (8 Tbs.) unsalted butter, cut into small pieces and chilled

Heat the oven to 350°F.

To make the filling:
In a 9-inch pie pan that's 2 inches deep (or a similar baking pan), toss the apples with the sugar to taste, cinnamon, and flour.

To make the topping:
In a medium bowl, mix together all the topping ingredients with your fingers or a pastry cutter until small pebbly pieces of butter are distributed throughout the mixture. Sprinkle the entire mixture over the apples. Bake until the topping is golden and the fruit is bubbling and tender, about 1 hour and 15 minutes for a large crisp and 1 hour for individual crisps. Cool slightly before serving.

Yield: 6 servings

Two years ago: Lemonade Cake
Three years ago: Creamy Broccoli and Cheddar Soup
Four years ago: French Silk Pie
Five years ago: Beef, Cheddar and Potato Pie
Six years ago: Mexican Chocolate Tofu Pudding
Seven years ago: Another Delicious Blueberry Muffin

Print This Recipe