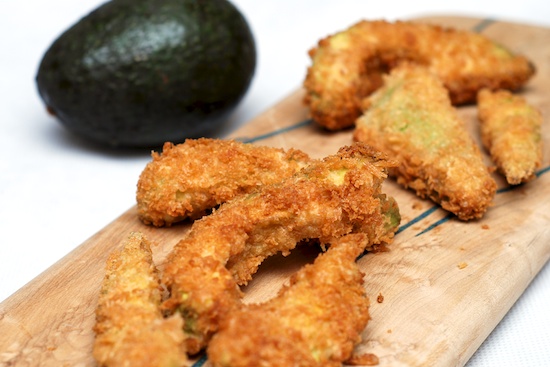 I tore this recipe out of Coastal Living magazine recently and made it the other night. Wow! If you love avocados and french fries as I do, this is the recipe for you. My husband and I gobbled these fries up. I was really hoping that I'd get one of my boys to like them, but alas, no luck. I did succeed in getting three of them to try the fries, but to my dismay, all three rejected them.
We ate these plain, but I imagine they'd be delicious dipped in some ranch dressing.
You probably knew this, but an avocado is actually a fruit. It's like a tomato in that way. Avocados are also loaded with healthy fats for your body. They contain potassium (more than bananas), other vitamins and fiber as well.
I have another ripe avocado sitting on my kitchen counter. Guess what we're having for dinner tonight?
Avocado Fries
Recipe from Coastal Living Magazine

Canola oil for frying
1/4 cup all-purpose flour
1/4 teaspoon kosher salt, plus more to taste
2 large eggs, lightly beaten
1 1/4 cups panko (Japanese breadcrumbs)
2 firm-ripe avocados, cut into 1/2-inch wedges

Pour oil to depth of 1 1/2 inches in a medium saucepan or Dutch oven. Heat to 375° over medium-high heat. (NB: I didn't measure the temperature of the oil. I heated it up and when I thought it was ready, I tossed one of the breadcrumbs into it. If the oil sizzles when the breadcrumb is tossed in, it's ready.)

Meanwhile, combine flour and salt in a shallow plate. Put eggs and panko in separate shallow plates. Dip avocado wedges in flour, shaking off excess. Dip in egg, and then dredge in panko to coat.

Fry avocado wedges, in batches, 30 to 60 seconds or until golden brown, and drain on paper towels. Place on a baking sheet in a 200° oven to keep warm while frying remaining wedges. Sprinkle with additional salt to taste.

Yield:  4 – 6 servings

One year ago: Chocolate Pancakes
Two years ago: Baked Shrimp Scampi
Three years ago: Chewy Sugar Cookies

Print This Recipe