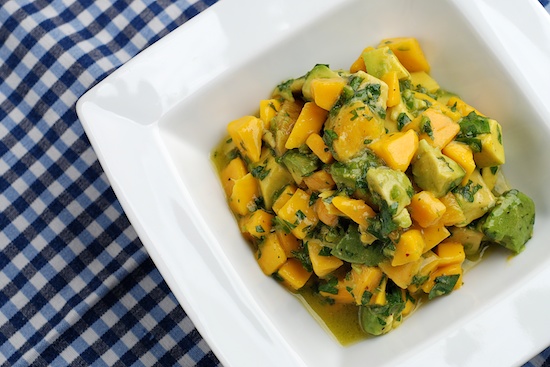 This is a Senegalese salad recipe which is a perfect summer side dish. The savory avocado, parsley and jalapeno are a nice contrast to the sweet mango and orange. I love summer side dishes that are loaded with flavor and involve no cooking.
The directions say to let the salad sit for an hour before serving it. It's very good after an hour, and it's even better the next day. One of the keys to this recipe is using avocados and mangos that are perfectly ripe. The texture is important to this recipe. If your avocados and mangoes are ripe, the salad has a very creamy texture to it.  The avocados and mangoes almost melt in your mouth.
The next time I make this, I might try to use cilantro instead of parsley. It will give it more of a Southwestern/Mexican flavor, but I think it will taste great.
Saladu Awooka àk Mango (Avocado–Mango Salad)
Recipe from Saveur.com

1/2 cup finely chopped parsley
1/4 cup canola oil
1/4 cup fresh lime juice
2 Tablespoons fresh orange juice
1 jalapeño, stemmed, seeded, and minced
Kosher salt and freshly ground black pepper, to taste
2 ripe mangoes, peeled, pitted, and cut into ¼″ cubes
2 ripe avocados, pitted, peeled, and cut into 1″ chunks
1 small navel orange, peeled and cut into segments (here a link on how to segment an orange)
2 teaspoons unsweetened shredded coconut (optional)

Whisk together 6 Tablespoons parsley, canola oil, both citrus juices, jalapeño, salt and pepper in a large bowl. Add mangoes, oranges and avocados, and toss gently to combine; cover with plastic wrap, and refrigerate to meld flavors, about 1 hour. To serve, sprinkle with remaining parsley, and coconut if using. Serve chilled.

Yield: 4 – 6 servings

One year ago:   Chocolate Chip Biscotti
Two Years Ago:   Curried Carrot Soup
Three Years Ago:   Pan Seared Shrimp with Garlic-Lemon Butter
Four Years Ago:   Crispy Salted Oatmeal White Chocolate Cookies