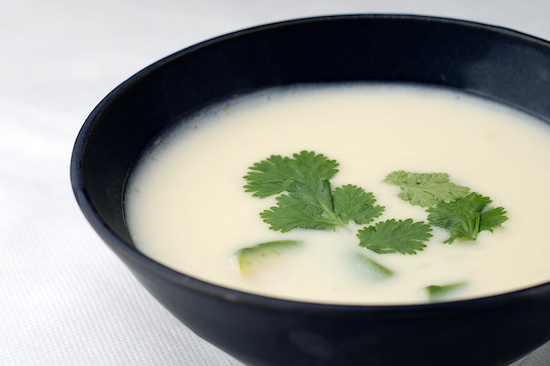 This Sunday's NY Times had an article on cold soups written by Mark Bittman.    Twelve bowls of beautiful soup were pictured in an online interactive feature .  I had some time before my son's baseball game on Sunday afternoon, so I made a batch. It's very easy to make and incredibly tasty.
I used my immersion blender to puree the soup, but I found that the immersion blender didn't make the soup smooth enough, so I poured it into my VitaMix blender and it ended up like velvet. It's so creamy, you'll be surprised that it doesn't have any cream or milk in it.
When you purchase your avocado, make sure it's perfectly ripe. You don't want the avocado chunks to be firm in the soup. You want them to melt in your mouth.
Although vichyssoise is supposed to be served cold, I enjoy this soup slightly warm.
One tip about this soup. If you're not going to eat it all in one sitting, make sure the avocado is completely submerged in the soup or it will turn brown/black as it is exposed to the air.
Avocado Vichyssoise
Recipe by Mark Bittman, as seen in the NY Times

2 Tablespoons butter
1 ripe avocado
3 Idaho potatoes
3 leeks
1 quart chicken stock
Salt, to taste
Cilantro for garnish

Melt 2 Tablespoons butter in a large pot. Add 3 peeled and cubed potatoes and 3 trimmed and chopped leeks. Make sure the leeks are rinsed well as they often have dirt in them. Cook for about 3 minutes, stirring, until softened. Add 4 cups stock. Boil, cover, lower the heat and simmer until vegetables are tender, about 20 minutes. Purée in a blender, then let cool. Stir in coarsely chopped flesh of an avocados before serving. Garnish with chopped cilantro.

Yield: 4 servings

One year ago: Spicy Chicken Barley Soup with Sweet Potatoes and Spinach
Two Years Ago: Mediterranean Farro Salad
Three Years Ago: Chicken with Tabbouleh

Print This Recipe