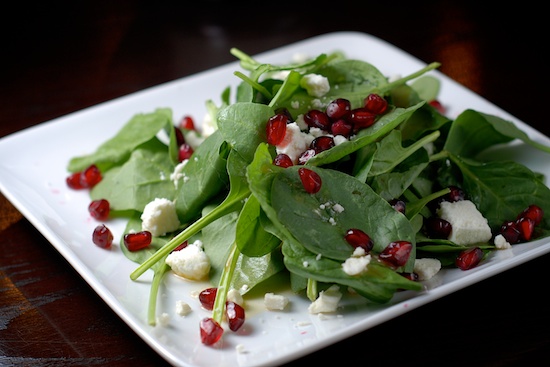 Found this recipe in a recent Rachael Ray magazine. I love pomegranate seeds and I also like salads with cheese, so I had to try it. It's my new current favorite. It's light, tasty and the pomegranate seeds add some nice flavor and color.
I bought the pomegranate seeds in a little package. I wasn't brave enough to buy a whole pomegranate and try to extract the seeds myself. The nice man in the produce section of the market told me that trying to extract the seeds would make a big mess in my kitchen. The next time I see a whole pomegranate, I'll buy one to see exactly how hard and messy it is.
The original recipe called for goat cheese.   I don't care for goat cheese, so I used feta as a substitute and it was delicious. The salty cheese was a nice complement to the pomegranate seeds.
Baby Spinach Salad
Recipe from Rachael Ray Magazine, October 2011

3 Tablespoons red wine vinegar
1/2 teaspoons salt
1/4 teaspoons pepper
1 Tablespoons honey
1/4 cup extra virgin olive oil
10 oz. baby spinach
8 oz. feta cheese
1 cup pomegranate seeds

Mix first 5 ingredients; toss with greens. Top with cheese and pomegranate seeds.

Yield:  6 servings
One year ago: Whole Wheat Apple Muffins
Two years ago: Southwestern-Style Succotash Chili
Three years ago: Scalloped Potato Gratin


Print This Recipe