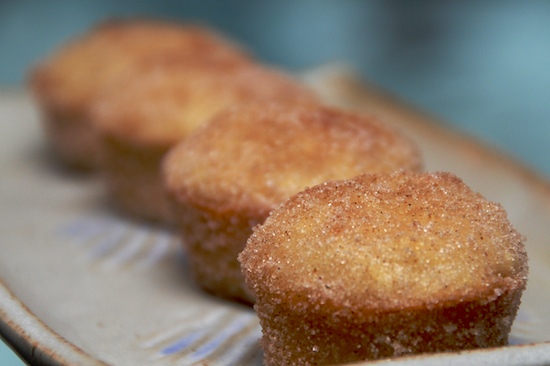 These "donuts" didn't last long in our kitchen this morning. They are a variation of these muffins that I made earlier this summer, the primary difference being that these "donuts" (they're actually more like muffins) have lots of diced apple in them. The apple seems to make them a bit heavier than the Sugar Donut Muffins, but certainly no less delicious. My husband rated these as one of the best muffins that I've ever made, and I make a lot of muffins, so that's quite an endorsement. You can trust my husband. If he doesn't like something that I make, he'll let me know. He's terribly polite about it, but in his own nice, kind way he lets me know that whatever I've made isn't his favorite.
When I was growing up, January was always New Recipe Month in our house. Sometimes the new meals were good and sometimes they weren't. I'll never forget the dish that had Fritos as the base layer. Not good. Anyway, my mom would always serve the new dish to my father and ask him when he wanted to have it again. If his reply was, "Tomorrow" or "Next Week", my mom knew the dish was good. If he said, "In 20 years", she knew it left something to be desired. My own husband would be happy to have these muffins again tomorrow, and the next day, and the day after that.
I made these as mini-muffins, and I have to be honest and say that I thought they were a bit heavy. Delicious (what wouldn't be good covered in cinnamon and sugar), but a bit heavy.   That didn't stop me from eating four in a row!  They reminded me of the apple cider donuts that you get in the fall at orchards.
My boys don't like chunks of fruit in things, so I cut the apples into a tiny dice.   They never noticed!
I'm anxious to hear what you think of these "donuts".
Baked Apple "Donuts"
Adapted from Cooks.com

1 1/2 c. flour
1/2 tsp. salt
1 3/4 tsp. baking powder
1/2 tsp. nutmeg
1/2 c. sugar
1/3 c. butter, softened
1 egg, beaten
1/2 c. milk
1 1/2 c. finely diced apples

Topping:
1/2 cup sugar
3/4 teaspoon cinnamon
1/2 stick butter, melted

Sift first 4 ingredients. Set aside.

Cream the butter and the sugar. Mix in the egg. Alternate adding the flour mixture and the milk. Fold in the diced apples.

Spoon into 24 greased mini-muffin cups. Bake at 350 degrees for 15 – 18 minutes.

While donuts are baking, melt 1/2 stick butter. Set aside. Combine 1/2 cup sugar and 3/4 teaspoon cinnamon. When donuts are done, dip in butter and then roll in cinnamon sugar mixture.

Yield:  24 mini-muffins

Print This Recipe