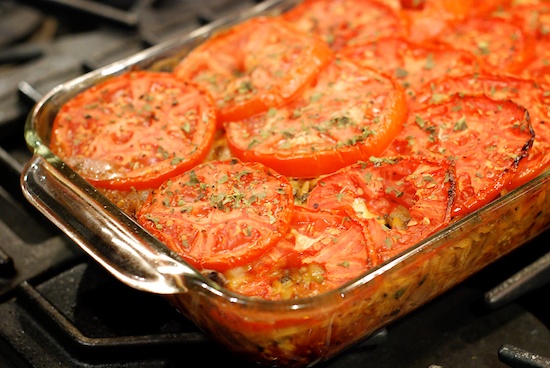 Don't let the name turn you off and don't let the photo fool you. This is one of the best baked pasta dishes I have ever made, or eaten for that matter. It's comfort food at its best and it has an incredible taste, like nothing I've had before. I've made this once a week for the last two weeks and intend to have it become part of our regular dinner rotation. When you try this, get the freshest vegetables possible and definitely splurge and buy some fresh oregano. Dried just won't do here.
If I had to name this, I'd put eggplant in the name because eggplant is a big part of this dish. I might call it Baked Orzo with Eggplant and Mozzarella or something like that.
A couple of things about this recipe: I used a Sicilian eggplant (it's shaped like a big tomato), and left the skin on. I worried that my eggplant cubes would turn brown while they were sitting and draining, but I put a generous helping of salt on my eggplant, and noticed no color change at all while they were sweating. As I mentioned above, splurge on some fresh oregano. The hardest part of this recipe is doing all of the chopping. Once all of the vegetables are prepped, it's fairly easy to cook and assemble.
Did the boys eat this? No, not really, although my vegetarian son tried it. He claimed he didn't like it, but at least he gave it a try.

Baked Orzo with Mozzarella and Oregano
Recipe by Yotam Ottolenghi as seen in The Guardian

1 large eggplant (mine was about 2 lbs.), cut into a 3/4″ dice
Salt and black pepper
6.5 Tablespoons olive oil
4 medium carrots, peeled and cut into 1/2″ dice
3 celery stalks, cut into 1/2″ dice
1 medium onion, peeled and finely diced
3 garlic cloves, peeled and crushed
1 cup orzo pasta
1 teaspoon tomato paste
1.5 cups vegetable stock
3 Tablespoons fresh oregano, chopped
Grated zest of 1 lemon
8 oz. mozzarella, cut into 1/2″ dice
1/4 cup grated Parmesan cheese
3 medium tomatoes, cut into 1/4″-thick slices
1 teaspoon dried oregano

Heat the oven to 350 F. Sprinkle the eggplant generously with salt and leave to drain in a colander for 30 minutes. Rinse and pat dry. Heat the oil in a large frying pan, add the eggplant and cook for eight minutes on medium to high heat until golden brown, stirring occasionally. Remove with a slotted spoon and drain on some paper towels. Add the carrot and celery, fry for eight minutes, and transfer to the paper towels. Lower the heat to medium, add the onion and garlic and cook, stirring, for five minutes. Stir in the orzo and tomato paste, and cook for two minutes.

Remove the pan from the heat and pour in the stock, fresh oregano and lemon zest. Add the cooked vegetables, mozzarella, Parmesan, a teaspoon of salt and half a teaspoon of pepper. Mix well and transfer to a 9″ x 11″ baking dish. Layer the tomatoes on top, sprinkle with dried oregano and season with a bit of salt and pepper. Bake for 40 minutes, until all the liquid has been absorbed and the pasta is cooked. Remove, leave to settle for five minutes and serve hot.

Yield: 4 servings

One year ago: Baby Spinach Salad
Two years ago: Whole Wheat Apple Muffins
Three years ago: Southwestern-Style Succotash Chili
Four years ago: Chicken with Onions and Vinegar

Print This Recipe