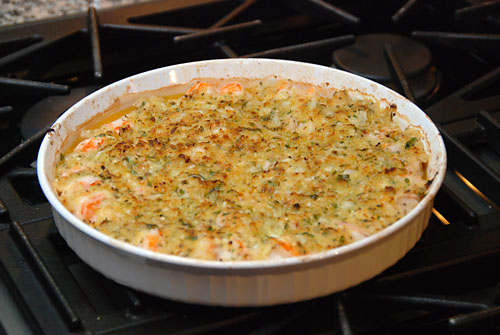 This isn't one of the greatest photos, but this dish is definitely worth making.   It's perfect for a dinner party because you can put the whole thing together in the morning and then throw it in the oven when you're ready to eat.   It takes less than 15 minutes to cook.
This is one of those recipes that makes me happy that I own an Aerogarden.    I have fresh herbs growing on my windowsill all the time.   I'm constantly snipping bits of them for recipes.   And there's nothing like a recipe made with fresh herbs.  I used to buy herbs in the supermarket, but I was never able to use them all before they went bad, so the Aerogarden was a perfect solution for me.   I recommend getting one if you like to cook.   You don't need a green thumb either.   All you have to do is remember to add water.
I've made this recipe a number of times in the last couple of weeks.   It's really the best shrimp scampi that I've ever made.   The herb-breadcrumb topping is really delicious.   This is perfect served over rice with a green vegetable on the side.  Try it at your next dinner party.
Do you think I was able to get any of the boys to try this?    Nope!   Everyone says, just wait – one day they'll eat you out of house and home.   I'm waiting…
N.B. I buy frozen shrimp that has already been peeled and deveined. Once thawed (and they thaw quickly), I remove the only part of the shell that is on them – the tail. This is quick and easy.  I never buy shrimp in the shell. Peeling and deveining is a chore!
Baked Shrimp Scampi
From Ina Garten's Back to Basics

2 pounds (12 to 15 per pound) shrimp, peeled and deveined
3 tablespoons good olive oil
2 tablespoons dry white wine
Kosher salt and freshly ground black pepper
12 tablespoons (1 1/2 sticks) unsalted butter, at room temperature
4 teaspoons minced garlic (4 cloves)
1/4 cup minced shallots
3 tablespoons minced fresh parsley leaves
1 teaspoon minced fresh rosemary leaves
1/4 teaspoon crushed red pepper flakes
1 teaspoon grated lemon zest
2 tablespoons freshly squeezed lemon juice
1 extra-large egg yolk
2/3 cup panko (Japanese dried bread flakes)
Lemon wedges, for serving

Preheat the oven to 425 degrees F.

Peel, devein, and butterfly the shrimp, leaving the tails on. Place the shrimp in a mixing bowl and toss gently with the olive oil, wine, 2 teaspoons salt, and 1 teaspoon pepper. Allow to sit at room temperature while you make the butter and garlic mixture.

In a small bowl, mash the softened butter with the garlic, shallots, parsley, rosemary, red pepper flakes, lemon zest, lemon juice, egg yolk, panko, 1/2 teaspoon salt, and 1/4 teaspoon of pepper until combined.

Starting from the outer edge of a 14-inch oval gratin dish, arrange the shrimp in a single layer cut side down with the tails curling up and towards the center of the dish. Pour the remaining marinade over the shrimp. Spread the butter mixture evenly over the shrimp. Bake for 10 to 12 minutes until hot and bubbly. If you like the top browned, place under a broiler for 1 -3  minutes, until browned. Serve with lemon wedges.

Serves 6.

Print This Recipe