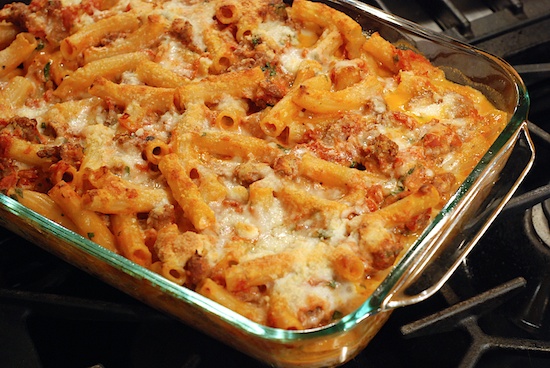 I always find big casseroles hard to photograph. I'm never sure if it's best to photograph the whole casserole, or if it's better to pile some up on a plate for a photo. This isn't the best photo, but I was anxious to post this recipe because I think it's so delicious. I don't typically like baked ziti, perhaps because I've never had a good one. This one, with its homemade sauce and lots of cheese, is delicious.
When I make dishes that call for canned tomatoes, I now use boxed tomatoes instead. I'd also use tomatoes in glass jars, but I can't find them in my local stores. I've read a couple of articles recently that suggest that canned tomatoes contain high levels of bisphenol-A (BPA). It comes from the lining of the cans. The chemical leeches into the tomatoes because they're so acidic. The chemicals are especially harmful to the young, so I don't use canned tomatoes anymore. Whenever I see boxed tomatoes (Pomi is the brand that I use), I pick up a bunch of boxes so I have them on hand. Every now and then I love a bowl of tomato soup in the winter.
If you are a pasta fan, this recipe is definitely worth trying. It's the best baked ziti I have ever had and it doesn't take that long to put together, so it's perfect for a weeknight meal.
Baked Ziti with Tomato, Mozzarella and Sausage
Recipe from Fine Cooking, February 2000 issue

Olive oil
1 large onion, cut in small dice
2 cloves garlic, minced
1 lb. spicy turkey sausage, removed from its casing and crumbled
Kosher salt and freshly ground black pepper
1/4 cup dry red wine
35-oz. chopped tomatoes with their juices
1/4 cup chopped fresh oregano
1 cup fresh ricotta cheese
1 cup freshly grated mild pecorino cheese
Pinch nutmeg, preferably freshly grated
1/3 cup chopped fresh flat-leaf parsley
1/4 teaspoon crushed red pepper flakes (or to taste)
1 lb. dried ziti
1/2 lb. mozzarella, preferably fresh, cut in small cubes

Heat the oven to 425°F. Lightly oil a large, shallow baking dish. Bring a large pot of salted water to a boil.

In a large skillet, heat about 2 Tbs. olive oil over medium heat. Add the onion and sauté until soft, about 5 minutes. Add the garlic and crumbled sausage and sauté until the sausage starts to brown. Season with salt and pepper. If the sausage gives off a lot of fat, pour off most of it, but leave a little to add flavor to the sauce. Add the red wine and let it boil until it's almost gone. Add the tomatoes with all of their juices and the crushed red pepper flakes, and cook, uncovered, at a lively simmer for about 10 minutes. The sauce will thicken slightly. Add the oregano and taste for seasoning.

In a large bowl, mix the ricotta, about half of the grated pecorino, the nutmeg, and the parsley. Season with salt and pepper.

Meanwhile, cook the ziti until al dente. Drain well and toss it with the ricotta mixture until well coated. Add the sausage and sauce and mix again. Add the mozzarella and toss gently. Pour everything into the baking dish and sprinkle the remaining pecorino on top. Bake uncovered until lightly browned and bubbling, about 20 minutes. Serve immediately.

Yield: 4-6 servings

One year ago: Rosemary Parmesan Coins
Two years ago: Curried Rice and Quinoa Salad
Three years ago: Maple Braised Pork Chops