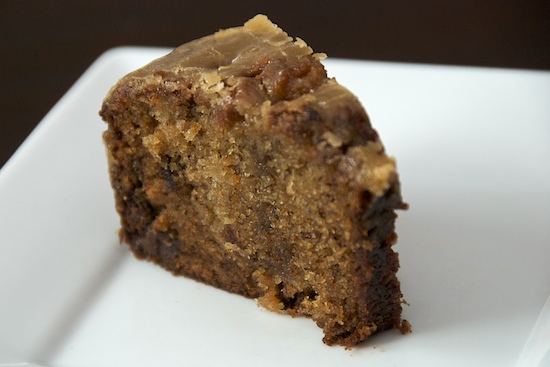 It was a rainy day today and one of my sons is sick so I was stuck in the house with him and three overripe bananas. I'm always on the lookout for new banana recipes and I found this one on a blog called Technicolor Kitchen. It is really good. The caramel on top is incredible.
I thought two of my boys would certainly enjoy the cake and I wasn't sure about the other two. One of them doesn't like caramel and the other doesn't like bananas, but lo and behold, all four of them loved it. When I told the one that doesn't like bananas that he just ate a slice of banana caramel cake he said,"Oh, well, I kind of liked it." I pointed out that he just said it was delicious. Cute guilty smile.
I didn't have any ground cloves, so I left them out, and the boys don't like nuts in cake so I left them out too. The cake is still delicious. I used freshly ground nutmeg, which I highly recommend. I don't even think it resembles the ground nutmeg you buy in the jar. No comparison. I buy whole nutmeg and grind it using a microplane grater. Try grating nutmeg yourself and you'll never go back. I made one more change to the recipe. I didn't have a bar of dark chocolate so I used chocolate chips.
I don't want to forget to tell you how moist this cake is. It's really moist and scrumptious.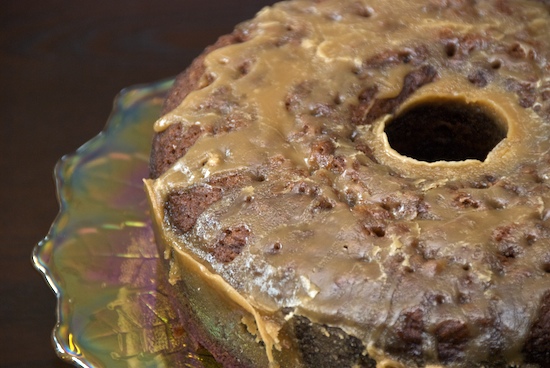 Banana Caramel Cake

Cake:

2 cups all-purpose flour
1 teaspoon cinnamon
½ teaspoon nutmeg
¼ teaspoon cloves
1 teaspoon salt
1 teaspoon baking soda
3 large eggs
1 ¼ cups canola oil
1 ¾ cups sugar
1 tablespoon vanilla extract
¾ cup coarsely chopped walnuts
3oz dark chocolate, broken into small pieces (size of chips)
3 ripe bananas, mashed

Caramel:

½ cup firmly packed brown sugar
2 tablespoons whole milk
4 tablespoons unsalted butter, cut into pieces

Butter and flour a tube pan or a bundt pan that can hold 12 cups; preheat the oven to 350ºF.

Sift together flour, cinnamon, nutmeg, cloves, salt and baking soda. In the bowl of a stand mixer, combine the eggs, oil and sugar. With the paddle attachment, mix on medium speed for 2 to 3 minutes.Scrape down the sides of the bowl to ensure that the sugar has been incorporated. Add the vanilla extract and mix for another 30 seconds.

With the mixer on low speed, add the dry ingredients a bit at a time. Scrape down the sides of the bowl every now and then to ensure everything is incorporated.Once the dry ingredients have been added, remove the bowl from the stand mixer and add the walnuts, chocolate and bananas. Gently fold them in with a spatula or a wooden spoon. Don't over mix.

Spoon the batter into the prepared pan. Bake for 50 minutes and then test the cake to see if it's done by poking a toothpick or cake tester into the centre of the cake. If it comes out clean, it's done. If not, bake the cake for another 5 to 10 minutes.

About 5 to 10 minutes before the cake is done, make the caramel by combining all the ingredients in a small pan. Bring to the boil and stir occasionally to ensure that it doesn't burn. Let it boil for about 5 minutes and then turn off the heat.

Once the cake is out of the oven, poke holes all over the cake with a skewer (I used a chopstick because I couldn't find a skewer). Immediately pour the caramel over the cake, stopping every now and then to let the caramel sink in. If the caramel pools in spots, poke more holes to allow it to sink in.

Let the cake cool in the pan on a wire rack. Once it's cool, loosen the cake from the sides of the pan and then unmold it onto a plate.

Yield: 10-12 servings

Print This Recipe