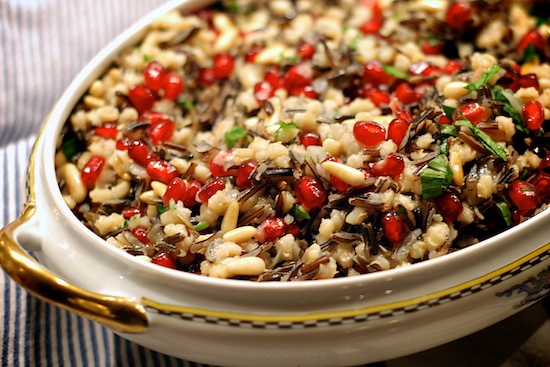 This rice pilaf is delicious! Very different, but incredibly good. I can't wait to make this again. The texture and flavors are wonderful – I loved the crunch of the pine nuts and the pomegranate seeds, and the little squirt of sweet/tart pomegranate juice when you bite into them. The chewy barley is a nice addition also.
When recipes call for pomegranate seeds, I have been buying them already prepared – a nice little container of seeds. The only problem is that they're very expensive that way. I was always afraid to try to seed my own pomegranate because I heard that it was difficult and incredibly messy because the seeds are very juicy and the juice stains. Well, it's not that difficult. I found that it took a few minutes to get all of the seeds out, but it wasn't that hard at all. I recommend wearing latex gloves if you have them to prevent the juice from staining your hands.
Here's how I did it. I did it in the sink with running water and a strainer to catch the seeds. I cut the crown off the pomegranate. I then scored the pomegranate by cutting through the skin as if I were cutting it in quarters. in four places, then I pulled the pieces apart. Then with my hands, I pulled each of the seeds out and let them drop into the strainer. Some of the white pith will drop into the strainer as well. Once I had all of the seeds out, I dumped the seeds into a bowl of cold water. This caused the seeds to drop to the bottom and any extraneous white stuff to float to the top. I removed this and was left with a beautiful bowl of seeds. There are plenty of sites on the internet that go through these steps with beautiful pictures, so if you've never done it before, I recommend checking out one of those sites. Just google "how to seed a pomegranate" and you'll find plenty of links including YouTube videos.
I highly recommend trying this rice pilaf. During pomegranate season, this is going to be one of my go-to side dishes. The recipe says to serve it hot. I ate it for left-overs for a couple of days right out of the refrigerator and I though it was great! If you do want to serve the leftovers warm, heat it in a 350 degree oven until it's warm.

Barley & Wild Rice Pilaf with Pomegranate Seeds
Recipe from EatingWell.com

2 teaspoons extra-virgin olive oil
1 medium onion, finely chopped
1/2 cup wild rice, rinsed
1/2 cup pearl barley
3 cups reduced-sodium chicken broth, or vegetable broth
1/3 cup pine nuts
1 cup pomegranate seeds, (1 large fruit; see Tip)
2 teaspoons freshly grated lemon zest
2 tablespoons chopped flat-leaf parsley

Heat oil in a large saucepan over medium heat. Add onion and cook, stirring often, until softened. Add wild rice and barley; stir for a few seconds. Add broth and bring to a simmer. Reduce heat to low, cover and simmer until the wild rice and barley are tender and most of the liquid has been absorbed, 45 to 50 minutes.

Meanwhile, toast pine nuts in a small, dry skillet over medium-low heat, stirring constantly, until light golden and fragrant, 2 to 3 minutes. Transfer to a small bowl to cool.

Add pomegranate seeds, lemon zest, parsley and the toasted pine nuts to the pilaf; fluff with a fork. Serve hot.

Yield: ~6 servings

One year ago: Crab Meat Gratin
Two years ago: Moroccan Spiced Chickpea Soup
Three years ago: Lima Bean Soup with Parmesan Bacon Crisp

Print This Recipe