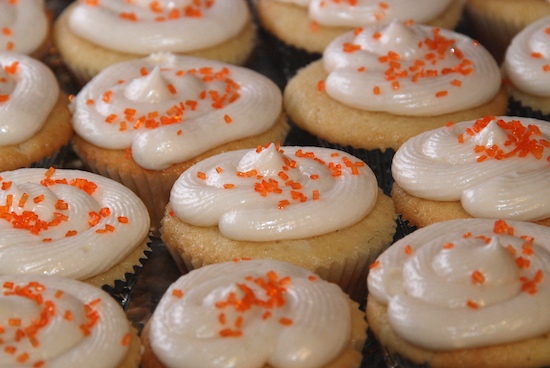 We were invited to a rooftop party a couple of weeks ago and I offered to bring a dessert, so I made these mini cupcakes.  My sister Gail sent me the recipe.    The recipe is from Billy's Bakery in NYC.   I've tried a million vanilla cupcake recipes in the past, but so far this one is my favorite.   The cupcakes were moist and delicious, and the vanilla buttercream frosting suited them perfectly.   Several people asked for the recipe – definitely the sign of a good cupcake.
When I decided to make the cupcakes, I glanced at the ingredient list, not really paying attention to the fact that it called for 'cake flour'.   I figured I'd make them a couple of hours before I had to leave for the party so they were nice and fresh.  Big mistake.   I started the recipe and realized that I didn't have cake flour.   I called my sister Gail who had made these cupcakes the week before, hoping that she had substituted regular flour for cake flour, but she hadn't, so I trudged to the store to grab a bag of cake flour.  I didn't have time to risk the cupcakes turning out to be a flop.    Needless to say I'm glad I bought the cake flour.  The cupcakes were delicious and I finished them just in time for the party (well, almost just in time – we got there an hour after it started.)
The recipe calls for unsalted butter, cut into cubes, which means it's cold from the refrigerator.   Because of this, I had a little trouble with my batter not becoming absolutely smooth.   There were little blobs of cold butter in it.   The instructions say not to overbeat, so I didn't.   I crushed the bigger butter blobs with the back of a spoon, and left the smaller ones as they were.   I was a little nervous about the batter consistency, but it didn't seem to matter in the end.  The cupcakes were delicious.    This is now my go-to vanilla cupcake recipe.
Billy's Vanilla, Vanilla Cupcakes
Recipe from marthastewart.com

1 3/4 cups cake flour, not self-rising
1 1/4 cups unbleached all-purpose flour
2 cups sugar
1 tablespoon baking powder
3/4 teaspoon salt
1 cup (2 sticks) unsalted butter, cut into 1-inch cubes
4 large eggs
1 cup whole milk
1 teaspoon pure vanilla extract

Preheat oven to 325 degrees. Line cupcake pans with paper liners; set aside. In the bowl of an electric mixer fitted with the paddle attachment, combine flours, sugar, baking powder, and salt; mix on low speed until combined. Add butter, mixing until just coated with flour.

In a large glass measuring cup, whisk together eggs, milk, and vanilla. With mixer on medium speed, add wet ingredients in 3 parts, scraping down sides of bowl before each addition; beat until ingredients are incorporated but do not overbeat. (I found that there were little blobs of butter in my batter and I was mildly concerned about it, but it didn't seem to affect the cupcakes at all.)

Divide batter evenly among liners, filling about 2/3 full. Bake, rotating pan halfway through, until a cake tester inserted in the center comes out clean, 17 to 20 minutes.

Transfer to a wire rack to cool completely. Repeat process with remaining batter. Once cupcakes have cooled, use a small offset spatula to frost tops of each cupcake. Decorate with sprinkles, if desired. Serve at room temperature.

Yield:  30 cupcakes




Billy's Vanilla Buttercream Frosting

1 cup (2 sticks) unsalted butter, room temperature
6 to 8 cups confectioners' sugar  (I used 6 cups of sugar)
1/2 cup milk
1 teaspoon pure vanilla extract

In the bowl of an electric mixer fitted with the paddle attachment, cream butter until smooth and creamy, 2 to 3 minutes. With mixer on low speed, add 6 cups sugar, milk, and vanilla; mix until light and fluffy. If necessary, gradually add remaining 2 cups sugar to reach desired consistency.

Yield:  Enough frosting for 30 cupcakes

Print This Recipe