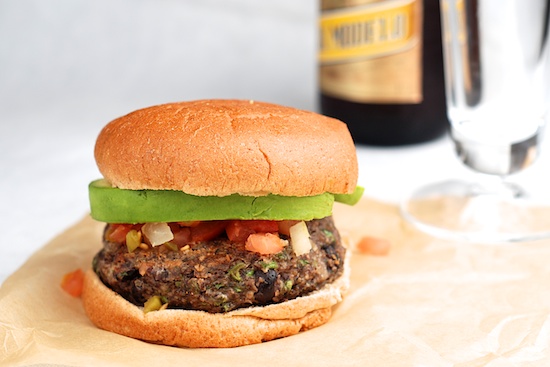 When I saw these burgers pictured in a magazine, they looked exactly like hamburgers to me. When I made them, they also looked a lot like hamburgers.  Once you bite into them though, they taste like a burrito.   These are one of the better bean burgers that I have eaten.   I still love Mark Bittman's bean burgers which I make with chick peas, but these are equally as good. Topped with fresh salsa and some avocado, they're really incredible. If you don't have salsa and avocado on hand, I think ketchup would be a good second choice.  I love the southwestern flavor of these burgers from the fresh cilantro, scallions and spicy cheese.   These will now become part of our regular dinner repertoire.
My husband loved these too, but on his first bite, he commented that the burgers lacked structural integrity. Seeing the salsa fall out of the back of his bun, I decided to press down on the top of my bun while it was still sitting on my plate, and that seemed to do the trick. Nothing fell out of my burger. This recipe says it serves four, but in my book, it only serves 4 if you're serving a side dish with it. I could easily haven eaten two of these burgers in one sitting.
Did the boys eat these?  Nope.   I hope they come to their senses one of these days.
Black Bean and Pepper Jack Burgers
Recipe from Fine Cooking, June/July 2012, No. 117

1/2 cup rolled oats
1 15.5-oz. can black beans, rinsed and drained
1 large egg
1 tsp. ground cumin
Kosher salt
2 oz. finely grated pepper Jack cheese (1/2 cup)
1 large scallion, minced
2 Tablespoons chopped fresh cilantro
1 Tablespoons olive oil; more for the plate
4 whole-wheat hamburger buns, toasted
Jarred chunky salsa (fresh, if possible), for serving
Sliced avocado, for serving

Put the oats in a food processor and pulse three times to roughly chop. Add half of the beans and pulse into a coarse paste, about 6 pulses. Add the egg, cumin, and 1/2 tsp. salt and process to mix well, about 1 minute. Transfer the bean mixture to a large bowl. Stir in the remaining beans, the cheese, scallion, and cilantro.

With wet hands, form the bean mixture into four 1/2-inch-thick patties and transfer to a lightly oiled plate. Refrigerate for 10 to 15 minutes to let the burgers set up.

Heat a large heavy-duty skillet (preferably cast iron) on high heat until very hot; add the oil and swirl the pan to coat the bottom. Cook the burgers until browned, with a good crust, 2 to 3 minutes; then carefully flip and cook, flipping again if necessary, until the burgers feel firm when pressed with a fingertip, another 3 to 5 minutes. Serve the burgers in the buns, topped with the salsa and avocado.

Yield: 4 burgers

One year ago: Strawberry-Orange-Vanilla Smoothie
Two years ago: Shortbread Cookies
Three years ago: Sweet Potato Bread
Four years ago: Asian Salmon Burgers

Print This Recipe