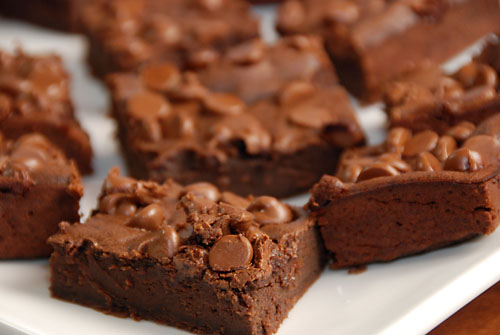 Ok, so I'm always on a quest for ways to get healthy food into the boys.   Is hiding vegetables in entrees and baked goods the best thing to do?   Not sure, but if I find a recipe that they'll eat that has hidden veggies in it, it makes me feel a little better about serving it to them.
I've seen a million black bean brownie recipes floating around the internet and they've always intrigued me, but not enough to try one… until today.   The recipe I really want to try is this one, but I wasn't quite ready to launch into baking brownies with black beans AND agave nectar.  I can only  handle one wild ingredient at a time, but since the boys seem to love these brownies, my next batch might just contain agave nectar!
The brownie batter smells a bit off when you make it – like it has beans in it, but they're definitely not detectable in the brownies.   The brownies taste surprisingly good for what they are.   They don't taste exactly like these traditional brownies, but they are quite tasty.  In my book the boys are practically eating a side dish every time they eat one.
The consistency of these brownies is more like fudge than a traditional cakey or chewy brownie because of the lack of flour, but the boys loved them so I'll definitely make these again.
When I made these, I used 1/4 teaspoon of decaffeinated instant coffee instead of a whole teaspoon.  I wasn't sure the boys would love the coffee taste, so I went easy on it.
Black Bean Brownies

1 (15.5 ounce) can black beans, rinsed and drained
3 eggs
3 tablespoons vegetable oil
1/4 cup cocoa powder
1 pinch salt
1 teaspoon vanilla extract
3/4 cup white sugar
1 teaspoon instant coffee (optional)
1/2 cup milk chocolate chips (optional)

Preheat oven to 350 degrees F. Lightly grease an 8×8 square baking dish.

Combine the black beans, eggs, oil, cocoa powder, salt, vanilla extract, sugar, and instant coffee in a blender; blend until smooth; pour the mixture into the prepared baking dish. Sprinkle the chocolate chips over the top of the mixture.

Bake in the preheated oven until the top is dry and the edges start to pull away from the sides of the pan, about 30 minutes.

Yield:  16 brownies (2″ x 2″)

Print This Recipe