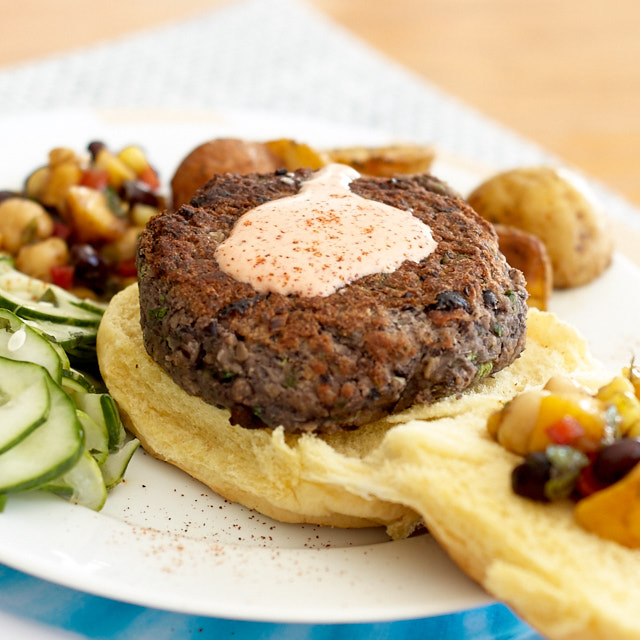 These are the best black bean burgers I have ever made. You have to plan ahead because they need to rest for at least an hour before cooking them, but they're well worth the planning. Many bean burgers have a mushy consistency. Not these. In a bun, they hold up like a hamburger. I like to serve them with a sauce that I make by mixing mayonnaise with sriracha sauce. I like 75% mayo to 25% sriracha.
I made these last night with gluten-free flour, and didn't notice the difference between regular flour and gluten-free. I used the Bob's Red Mill 1 to 1 Baking Flour. I also used it to make blueberry muffins this morning, and again, didn't notice a difference between it and regular flour. I was quite surprised as I have used other gluten-free flours with terrible results.
These keep very well in the refrigerator overnight and reheat well in the microwave. This is now my go-to bean burger recipe. It's part of our regular rotation now and our guests that have tried them have really liked them.
The photo above is of my friend Jon's lunch plate. He styled the food for the photo. Thanks Jon!
Black Bean Burgers
Recipe from Cooks Illustrated magazine, September 2015

2 (15-ounce) cans black beans, rinsed
2 large eggs
2 tablespoons all-purpose flour
4 scallions, minced
3 tablespoons minced fresh cilantro
2 garlic cloves, minced
1 teaspoon ground cumin
1 teaspoon hot sauce
1/2 teaspoon ground coriander
1/4 teaspoon pepper
1 ounce tortilla chips, crushed coarse (~1/2 cup)
8 teaspoons vegetable oil
6 hamburger buns

The black bean mixture needs to be refrigerated for at least 1 hour or up to 24 hours prior to cooking. When forming the patties, it is important to pack them firmly together.

Line rimmed baking sheet with triple layer of paper towels and spread beans over towels. Let stand for 15 minutes.

Whisk eggs and flour together in large bowl until uniform paste forms. Stir in scallions; cilantro; garlic; cumin; hot sauce, if using; coriander; salt; and pepper until well combined.

Process tortilla chips in food processor until finely ground, about 30 seconds. Add black beans and pulse until beans are roughly broken down, about 5 pulses. Transfer black bean mixture to bowl with egg mixture and mix until well combined. Cover and refrigerate for at least 1 hour or up to 24 hours.

Adjust oven rack to middle position and heat oven to 200 degrees. Divide bean mixture into 6 equal portions. Firmly pack each portion into tight ball, then flatten to 3 1/2-inch-diameter patty. (Patties can be wrapped individually in plastic wrap, placed in a zipper-lock bag, and frozen for up to 2 weeks. Thaw patties before cooking.)

Heat 2 teaspoons oil in 10-inch nonstick skillet over medium heat until shimmering. Carefully place 3 patties in skillet and cook until bottoms are well browned and crisp, about 5 minutes. Flip patties, add 2 teaspoons oil, and cook second side until well browned and crisp, 3 to 5 minutes. Transfer burgers to wire rack set in rimmed baking sheet and place in warm oven to keep warm. Repeat with remaining 3 patties and 4 teaspoons oil. Transfer burgers to buns and serve.

Yield: 6 servings

One year ago:Mint Chocolate Chip Meringues
Two years ago:Spring Root Vegetable Casserole
Three years ago: Hawaiian-Style Cabbage Salad
Four years ago:Dulce de Leche Brownies
Five years ago:Chocolate Chip Biscotti
Six years ago:Tate's Bake Shop Chocolate Chip Cookies
Seven years ago:Peanut Butter Cup Bars
Eight years ago:Outrageous Brownies

Print This Recipe