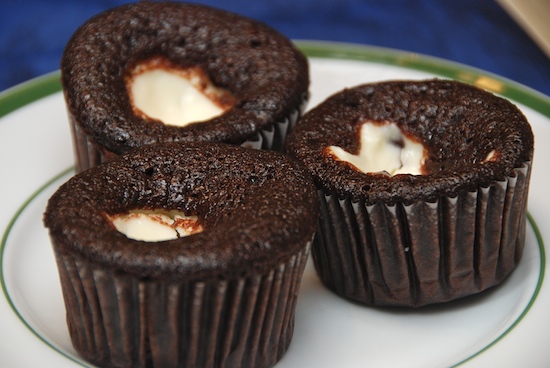 I've made these cupcakes twice now, and they're unbelievably good if you're a cheesecake fan.   The chocolate cake is very moist and the cheesecake in the center is a huge added bonus.   I like to serve these cold from the refrigerator.
I learned a couple of things when making them.   The first time I made them, I used two spoons to put the cream cheese filling on top of the cupcake batter.   The next time I made them, I used my mini ice-cream scoop.   From a visual perspective, the first method is much better.   The first time I made the cupcakes, much more filling was visible on the top of the cupcake, and the chocolate chips were visible as well.   The second method caused the cream cheese filling to end up looking like a baseball and sinking to the bottom of the batter before they were cooked.   Both methods yield delicious cupcakes, but they were much prettier the first time I made them.   Unfortunately I didn't photograph the first batch, but know that if you use two spoons to add the filling, yours will probably look much better than mine.
One of the nice things about this recipe is that the cream cheese filling is nice and white.   In many other recipes that I found, the filling looks yellow when baked because egg yolks are used in the batter.  This recipe uses only egg whites, which makes much prettier cupcakes with no loss of taste.  I must admit that when I make these cupcakes, there's some cream cheese filling left over, and it's delicious raw.  I know it's not brilliant to eat raw eggs, but knock on wood, I've never gotten sick yet.
I hope you like these as much as I do.  They were a big hit both times I made them.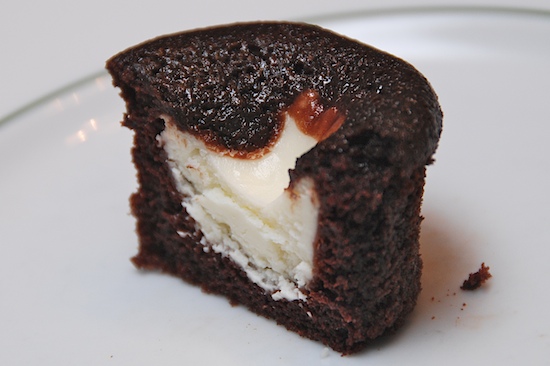 Black Bottom Cupcakes
From Cook's County Magazine via BakingBites

Cream Cheese Filling
16-oz cream cheese, room temperature
1/2 cup sugar
1/4 tsp salt
2 large egg whites, room temperature
2 Tablespoons sour cream, room temperature
1/3 cup miniature chocolate chips

Cake
1 1/2 cups all-purpose flour
1/2 cup cocoa powder
1 1/4 cups sugar
1/2 tsp salt
1 1/4 tsp baking soda
3/4 cup sour cream
1 1/3 cups water
1/2 cup butter, melted and slightly cooled
1 tsp vanilla extract

Preheat oven to 350F.    Line two 12-cup muffin tins with paper liners.

In a medium bowl, make cream cheese filling.   Beat together cream cheese, sugar and salt until smooth. Beat in egg whites and sour cream. Stir in chocolate chips and set aside.

In a large bowl, whisk together sugar, salt, flour, cocoa powder and baking soda. Make a well in the center and add in sour cream, water, butter and vanilla. Stir together until just combined and no streaks of flour remain.  Divide cake batter evenly among 24 cupcake liners.  Top each portion of batter with 1 rounded tablespoon cream cheese mixture (You might not use all of the filling.)

Bake for 20-25 minutes.   Rotate pans halfway through baking if you are using two racks.  A toothpick inserted into the side (cake only part) should come out with a few moist crumbs on it when the cupcakes are done.

Cool in pans for 5 minutes. Cream cheese filling will sink slightly.  Remove to wire racks to cool completely.

Yield:  24 cupcakes.



Print This Recipe