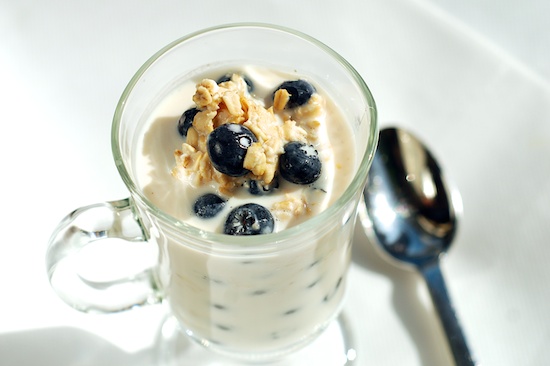 Ok, this is my new favorite breakfast. I've made a batch the last three days and I'll probably throw a batch together tonight for tomorrow morning's breakfast. It takes mere minutes to throw together if you have the ingredients on hand, and it's really healthy. I asked one of my sons to try it, and he actually said it was okay, which is huge for my boys when it comes to new food.
I love oatmeal in almost any form, but I think of it as a cold weather breakfast. Growing up, my mother used to tell us that hot cereal was great before school because it 'stuck to your ribs' meaning it will sustain you in even the coldest weather. This recipe is served cold, and it's a great way to enjoy oatmeal on a hot summer morning. I plan to enjoy it all winter too, because it's just that good.
My friend Paul turned me on to this recipe. He mentioned that his wife Jen often eats it for breakfast. When I found the recipe online, I noted that it called for chia seeds. Not having those on hand, I made my first batch without them. I had some blueberries that needed to be consumed, so it was perfect timing. The oatmeal was incredible without them, but it's equally incredible with them. Paul and Jen brought me some the other night to try. I don't think they affect the flavor of the oatmeal at all, they just give it a little more texture, and a boost of healthful goodness. In addition to being loaded with Omega-3, they're also high in protein and fiber. If you plan to buy some, don't make the mistake that I did at Whole Foods the other day. I bought a bag of ground chia seeds. For this recipe, you want the whole seeds.
Do try this oatmeal. It's really incredible.

Blueberry Maple Refrigerator Oatmeal
Recipe found on The Yummy Life blog

1/4 cup uncooked old-fashioned rolled oats
1/3 cup milk
1/4 cup low-fat plain Greek yogurt
1-1/2 teaspoons dried chia seeds
2 teaspoons maple syrup (or to taste)
1/2 cup blueberries (or to taste)

In a small mason jar (or any kind of sealed container, if you don't have a mason jar), add the oats, milk, yogurt, chia seeds, and maple syrup. Cover the container and shake well to combine. Remove lid, add blueberries and stir until well mixed. Cover the container again. Refrigerate overnight (or longer) and enjoy the next day. Eat chilled.

Yield: 1 serving

One year ago: Zucchini Fritters
Two years ago: Naan
Three years ago: Lemon Chamomile Shortbread
Four years ago: Creamless Creamy Tomato Soup

Print This Recipe