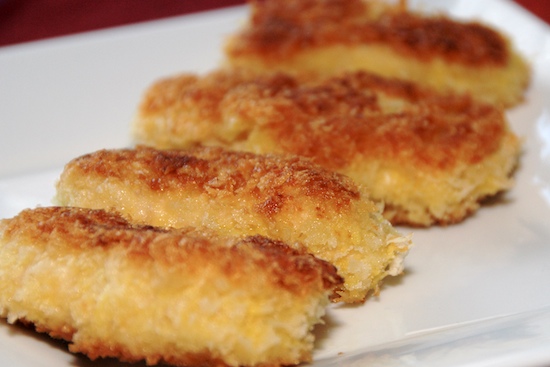 I love chicken cutlets, but I always wrestle with how to cook them. I ate them a lot growing up. My mom used to dip the chicken in egg, then breadcrumbs, then pan fry them. I LOVED when we had chicken cutlets for dinner. I'd dip mine in Catalina dressing. Yum!
Tonight one of my sons had a friend come over for dinner and I asked him if he felt like having pizza or chicken. He voted for chicken (good choice Kyle!), so I decided to make breaded chicken cutlets. I thought about trying a new recipe – maybe adding some cheese or herbs to the breading – so I pulled out The New Best Recipe by the editors of Cooks Illustrated (a magazine that I love.) When I looked up chicken cutlets, I found a basic recipe with illustrations. One set of illustrations jumped out at me – the ones describing how to bread the cutlets. They ended with a picture of the breaded cutlets resting on a wire rack set over a baking sheet. The instructions mentioned that letting the breading dry for 5 minutes will stabilize the breading so that it can be sauteed without sticking to the pan or falling off. I knew that I had to try this technique because when making chicken cutlets, I typically have trouble with the breading falling off the chicken when I turn it in the pan. It doesn't matter whether I use a fork, tongs or a spatula (and I've tried them all), the breading inevitably falls off before I finish cooking them.
I followed the instructions and let the breaded cutlets sit for 5 minutes before I pan fried them, and guess what – they cooked perfectly. Not a single bit of breading fell off. I will never make chicken cutlets any other way again. These were delicious with a nice, crispy crust, and the kids (well most of them) loved them. Yum!
I have one more chicken cutlet tip. If your cutlets are thick and they brown on both sides before the center is cooked, throw them on a cookie sheet into a 350 degree oven and let them finish cooking in the oven. Check them every 5 – 10 minutes (depending upon how raw in the center they are.)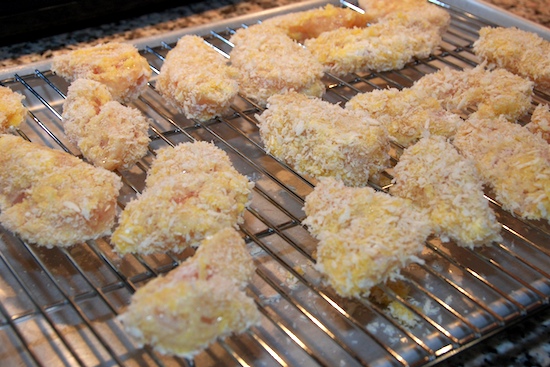 Breaded Chicken Cutlets
Adapted from The New Best Recipe

4 boneless, skinless chicken breasts
1 1/2 cups panko (Japanese breadcrumbs)
3/4 cup flour
2 large eggs
3/4 cup olive oil for frying

Place the flour in a shallow dish.   Beat the eggs and put them in another shallow dish, and put the breadcrumbs in a third shallow dish.   Place a wire rack over a baking sheet.

One cutlet at a time, dredge the chicken in the flour, shaking off any excess.   Next, dip the chicken in the egg making sure the entire cutlet is covered and letting the excess drip back into the dish.   Finally, put the chicken in the breadcrumbs.  Use your fingers to press the crumbs into the cutlet.   Put the breaded cutlet on the wire rack in a single layer.    Repeat these steps for all of the cutlets and let them sit for at least 5 minutes so the coating can dry.

Heat half of the olive oil in a frying pan over medium-high heat until it is shimmering but not smoking.  Put two of the cutlets in the pan (you don't want them crowded) and cook them for about 2 – 3 minutes until the crust is golden-brown.   Flip the cutlets and cook the second side over medium heat for another 2 – 3 minutes until the second side is golden brown.   When both sides are cooked, put the cutlets on a plate lined with a paper towel.   Repeat these steps for the second two cutlets.   If you want to, you can wipe out the pan between batches.   I didn't do this and mine turned out fine.

Yield:  4 servings
[Print_link]