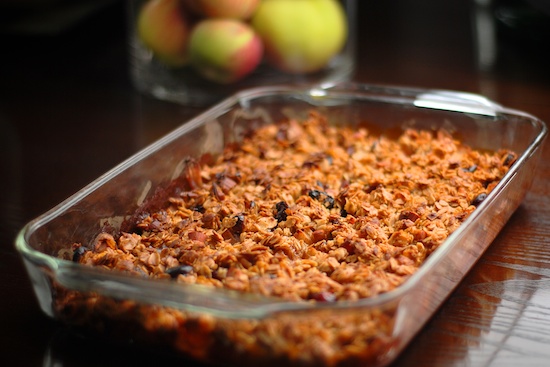 We went to Shelter Island last weekend. It was a long weekend; Monday was Columbus Day. On the way out, we stopped at an apple orchard to pick apples. We arrived late in the afternoon, and unfortunately except for some very small apples, the trees had been picked bare. We typically go apple picking north of NYC, but the North fork of Long Island boasts some nice orchards, so we decided to give one a try. Although the apples were small, we did bring a big bag of them home. When apple season arrives, I'm always looking for great new apple recipes.
I found this recipe this morning. I hadn't had breakfast yet, so it looked and sounded particularly delicious. I love apple crisp and I love granola, and this recipe is a nice combination of both. I ate some this afternoon, and I can't wait to have it for breakfast with a little yogurt.
Our apartment smelled phenomenal when this was cooking today. I can't wait to eat some for breakfast with a little vanilla yogurt. What a perfect fall breakfast! Want to take bets about whether any of my boys will eat it?

Breakfast Apple Granola Crisp
Recipe adapted from Smittenkitchen.com

3 pounds of whatever apples, or mix of apples, you like to bake with, peeled, cored and cut into medium chunks
2 tablespoons lemon juice
3 tablespoons sugar
2 tablespoons cornstarch
1 teaspoon cinnamon
Salt
1 stick (8 tablespoons or 4 ounces) unsalted butter
1/4 cup honey
1/2 cup flour
1/2 teaspoon cinnamon
2 cups oats
1/2 cup sliced almonds
1/2 shredded dried cranberries (I used Craisins)

Preheat oven to 400°F. Mix apple chunks with lemon juice, sugar, cornstarch, cinnamon and pinch of salt in a 9×13-inch baking dish until apples are evenly coated. In a medium saucepan, melt the butter with the honey. Stir in the flour, oats, almonds, cranberries, cinnamon and another pinch of salt until clumps form. Sprinkle evenly over the apple mixture and bake in the oven for about 45 to 55 minutes, or until the apples are softened and bubbly. Should the granola brown before you wish it to, cover the baking dish carefully with foil for all but the last few minutes of baking time. I covered mine after ~25 minutes of baking. Removing the foil will help the granola recrisp. Cool to room temperature and then stash in the fridge to eat with your morning yogurt.

Yield: 8 servings

One year ago: Caramelized Spiced Nuts
Two years ago: Chicken with Onions and Vinegar

Print This Recipe