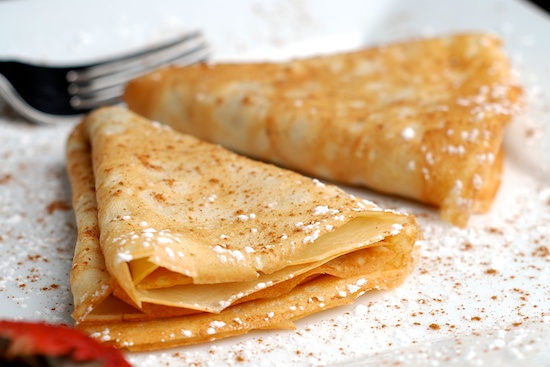 Our boys LOVE crepes. A little sliver of a crepe shop opened in our neighborhood recently and the boys ask to stop every time we pass it. According to the boys, they make the best Nutella crepes.
In the past, I have made crepes reluctantly. I never thought I did it very well. I used to make them in my 12″ frying pan, which isn't the best pan to use. If I don't think I do something well, I am reluctant to do it again, but in this case, I was willing to try again because I received an amazing crepe pan from my Aunt Sylvia for my birthday. Having good tools is one of the keys to cooking, and this pan proved it to me. I made a batch of crepes this morning for the boys and they were absolutely delicious. With my new pan, it was a cinch to make them. They flipped beautifully and the slid right off the pan and onto the plate when they were cooked. We didn't have any Nutella or any fresh fruit (we've been cooped up because of Hurricane Sandy), so the boys put some butter, cinnamon and sugar on the crepes and lapped them up.
With one crepe pan, making these was a very serial process for me, but with several hungry boys at my feet, I didn't have any need to keep crepes warm as others were cooking. Mine were eaten as soon as they slid off the pan. The recipe indicates that crepes can be stacked and kept warm in the oven. I didn't have the need to try this, so I'm not sure how well it works. If you try it, please let me know.
This is going to be my go-to recipe for crepes from now on. The batter smells great and taste just as good.
Breakfast Crepes
Recipe from epicurious.com

1 1/2 cups whole milk
3 large eggs
3 tablespoons sugar
1 teaspoon salt
Scant 5 tablespoons unsalted butter, melted
1/4 cup brandy
1 teaspoon vanilla extract
1 cup all-purpose flour

In a blender, combine milk and eggs. Mix on medium-high speed until foamy, about 10 seconds. Turn blender to low speed and remove feed top. With blender going, add sugar and salt. Replace feed top and blend on high speed for a few seconds, then turn blender back to low. In the same manner, add butter, brandy, and vanilla, replacing feed top and blending for several seconds after each addition. Turn blender off. Add flour all at once and blend until just combined.

Place crêpe pan over moderately high heat. With flexible spatula, spread a tiny amount of butter in pan and heat until butter just begins to smoke. Pour 1/4 to 1/3 cup batter into the pan. As you pour, quickly tilt the pan in all directions to spread a thin layer of batter across the bottom. Pour in just enough batter to cover the pan.

Cook crêpe over moderately high heat until bubbles just begin to form on the exposed surface, about one to two minutes. Lift up the edge to check the cooking process.

When underside of crêpe is browned, flip and cook another minute or less, until other side is browned. Remove from pan and keep warm in the oven, loosely covered with foil.

Grease pan with a very small amount of butter and repeat process. To serve, sprinkle each crêpe with sugar or spread with jelly or Nutella (or the filling of your choice) and fold or roll up.

Yield: 12 – 15 crepes

One year ago: Chocolate Layer Cake with Marshmallow Frosting
Two years ago: Apple Cake
Four years ago: Spiced Coconut Lentil Soup

Print This Recipe