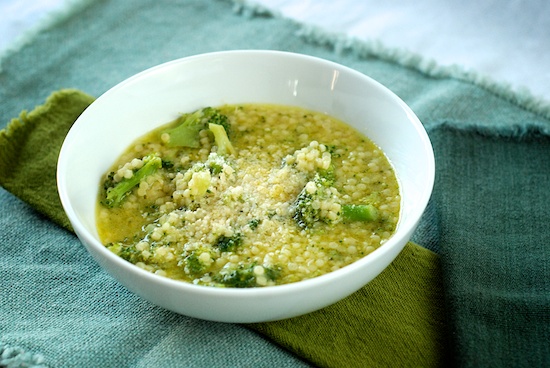 I know that I have said this before, but sometimes the best recipes are the ones with the most basic ingredients. This is one of those recipes.
Before I got married, my wonderful mother-in-law (whom I really miss) gave me a number of cookbooks, and The Essentials of Italian Cooking by Marcella Hazan was one of them. At the time, I didn't realize what a treasure I had been given. It took me a number of years and a visit to an acquaintance's house to figure it out. When the boys were younger, I was active in group for twin moms. At the time, I wasn't aware of a group for triplet moms, never mind triplets plus one, so I attended all of the twin mom meetings. We shared stories, swapped ideas, laughed and cried together. One night we met at a big, beautiful apartment uptown with a kitchen the size of the kitchen I grew up with (which is huge by NYC-standards.) There was a wonderful smell coming from the kitchen, so when the evening was over, I was the first to volunteer to help clear the table and bring the dishes into the kitchen. I had to see what was cooking. I found the husband of the hostess standing over several big pots on the stove, with The Essentials of Italian Cooking, dog-eared and well-worn, right next to him. After listening him to extoll the virtues of the book, I looked forward to going home and cracking the binding on my own copy. It was that night that I learned what a treasure I had waiting for me in my own kitchen. It's not like the cookbooks published today that include mouth-watering pictures of every dish, but each recipe is simple, calling for very basic ingredients, but the combinations of flavors are wonderful and the recipe directions are very clear.
This soup is best eaten as soon as it is made. It's not the kind of soup you want to let sit around, or reheat as a leftover. I did, and it was fine, but it wasn't the same soup that I had originally made. As my leftover soup sat in the refrigerator, the pasta absorbed every last drop of moisture and became quite bloated. The soup then looked like a bowl of leftover green pasta with broccoli. It took the addition of quite a bit of broth to return it to it's soup state.
Despite the fact that it's not ideal as a leftover, I highly recommend this soup and if you don't own The Essentials of Italian Cooking, you should definitely check it out.
Broccoli and Pasta Soup
Recipe from The Essentials of Classic Italian Cooking by Marcella Hazan as seen on The Wednesday Chef

1 medium bunch of broccoli
Salt
1/3 cup olive oil
1 teaspoon chopped garlic (or two whole cloves)
2 cups beef or chicken broth
1/2 cup small, coarse soup pasta (I used Tubettini, but any tiny pasta will do)
Freshly grated Parmesan cheese

Detach the broccoli florets from the stalks. Trim away about 1/2 inch from the tough end of the stalks. With a sharp paring knife, peel away the dark green skin on the stalks. Split very thick stems in quarters lengthwise. Wash and set aside.

Bring 3 quarts of water to a boil. Add 2 tablespoons of salt, and add the stalks. When the water returns to a boil, wait 2 minutes, then add the florets. When the water returns to a boil again, wait 1 minute, then remove all the broccoli with a slotted spoon. Do not discard the water in the pot.

Choose a sauté pan that can accommodate all the stalks and florets without overlapping. Put in the oil and garlic, and turn the heat to medium. Sauté the garlic until it turns pale gold. Add all the broccoli, some salt, and turn the heat up to high. Cook for 2 to 3 minutes, stirring frequently.

Using a slotted spoon, transfer the broccoli florets to a plate and set aside. Do not discard the oil from the pan.

Put the broccoli stalks into a food processor, pulse for a moment, then add all the oil from the pan plus 1 tablespoon of the broccoli water. Finish processing to a smooth purée.

Put the purée into a soup pot, add the broth, and bring to a moderate boil. Add the pasta. Cook at a steady, gentle boil until the pasta is tender, but firm. Depending on the thickness and freshness of the pasta, it should take about 10 minutes. You will probably need to dilute the soup as it cooks, because it tends to become too dense. To thin it out, use some of the reserved broccoli water. Take care not to make the soup too runny.

While the pasta is cooking, separate the broccoli florets into bite-size pieces. As soon as the pasta is done, put the florets in the soup and continue cooking for 1 more minute. Taste and correct for salt, and serve the soup promptly with the grated Parmesan on top.

Yield: 3 – 4 servings

Two years ago: Slow Cooker Vegetarian Chili with Sweet Potatoes
Three years ago: Nonna's Lemon Ricotta Biscuits
Four years ago: Cinnamon Sugar Rattle Snacks
Five years ago: Braised Pork Chops

Print This Recipe