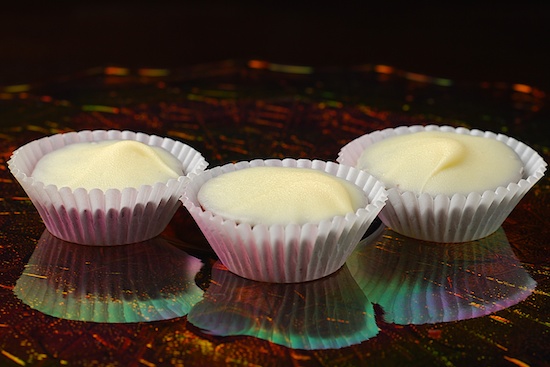 I made these the other day for a PTA meeting. I thought they looked adorable and I thought they tasted like something you'd buy at a fancy bakery. I love the mix of the orange and the chocolate. Usually I'm a chocolate purist, but I didn't mind the extra flavor in these. These are the perfect size for a snack or a small dessert when you just need something to satisfy your sweet tooth. These looked so good that I can envision them passed at a fancy cocktail party on a nice platter.
I made these in mini-muffin cups sprayed with Pam, and they popped right out after they cooled for a couple of minutes. After they're frosted, I put them into the refrigerator (actually, I had to put some of them into the freezer because of course I was frosting them right before the meeting – will I ever learn??), then I put them into little paper mini-muffin cups. They sat in the paper cups perfectly! I loved that they popped right out, unlike cupcakes that you bake in the paper wrappers. Those are always a mess when you take the paper off.
One of the notes in the cookbook suggests that lemon might be a good alternative to the orange flavoring. I can't really imagine lemon and chocolate together in a brownie, but who knows, it might be good.
I doubled this recipe because I needed to bring a bunch of them to the meeting. It doubled very nicely.
Brownie Buttons
Recipe by Dorie Greenspan from Baking: From My Home to Yours

Grated zest of 1/2 orange (optional)
1 teaspoon sugar (optional)
1/4 cup plus 2 tablespoons all-purpose flour
Pinch of salt
1/2 stick (4 tablespoons) unsalted butter, cut into 4 pieces
2 1/2 ounces bittersweet chocolate, coarsely chopped
1/3 cup (packed) light brown sugar
1/2 teaspoon pure vanilla extract
1 large egg

For the Glaze (optional)
2 ounces white chocolate, finely chopped

Center a rack in the oven and preheat the oven to 350 degrees F. Lightly butter two miniature muffin pans, each with a dozen cups, and place them on a baking sheet.

If you're using the orange zest, combine the zest and sugar in a small bowl, rubbing them between your fingertips to blend; set aside. Whisk together the flour and salt.

Melt the butter, chocolate and brown sugar in a medium heavy-bottomed saucepan over very low heat, stirring frequently with a heatproof spatula and keeping an eye on the pan so nothing overheats or burns. When the mixture is smooth, remove from the heat and cool for a minute or two.

Stir in the vanilla, egg and the zest, if you're using it, into the chocolate mixture. When the mixture is well blended, add the flour and stir only until it is incorporated. You should have a smooth, glossy batter.

Spoon the batter into 16 of the muffin cups, using about a teaspoon of batter to fill each cup three-quarters full. Put 1 teaspoon of water in each empty cup.

Bake for 14 to 16 minutes, or until the tops of the buttons spring back when touched. Transfer the pans to racks to cool for 3 minutes before carefully releasing the buttons. Cool to room temperature on the racks.

To Make the Optional Glaze:

Melt the chocolate in a small heatproof bowl set over a saucepan of simmering water. Stir constantly and don't leave the chocolate for even a minute- white chocolate scorches easily. As soon as the chocolate is smooth, remove from the heat.

One by one, dip the tops of the buttons into the chocolate, twirling the buttons so that you get a little swirl at the center of each one and the excess chocolate drips back into the bowl. Refrigerate the buttons for 15 minutes to set the glaze.

Yield: 16 brownies

Print This Recipe