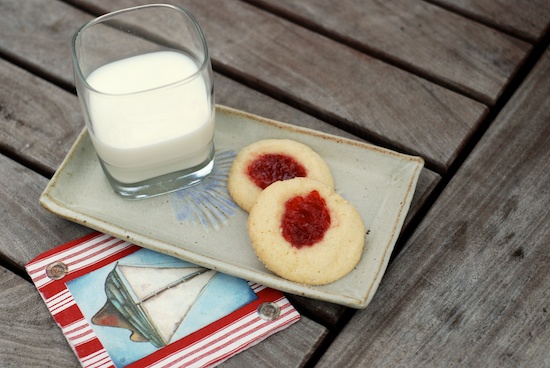 My grandmother spent every summer of her adult life in a very small town in central Maine called Unity. It's a beautiful town on Lake Winnecook (or as my grandmother called it, Unity Pond). I spent part of every summer of my childhood visiting my grandparents in Unity. They stayed in various cottages over the years and they were all on the water. I can't tell you how many fond memories I have of Maine. I haven't been back since my grandmother passed away. Although it will be bittersweet to be there without grandma, I have to bring our boys up there one of these days. I know they'd love it as much as I did.
One of my grandmother's best friends in Unity is named Debbie Eldredge. Mrs. Eldredge is an amazing baker and she also makes incredible fresh fruit jams. One of the highlights of visiting Unity is eating some of Mrs. Eldredge's fresh baked goods and trying some of her amazing jam. My parents flew to Maine (they're both private pilots) a couple of weeks ago and Mrs. Eldredge gave my mother 6 jars of fresh strawberry jam for me. I couldn't believe it. Mrs. Eldredge's jam is some of the best in the world.  Thank you, Mrs. Eldredge!
I have used a jar already on these cookies and some delicious scones I made on Sunday morning. I loved the scones, so if the picture turns out, I'll post them too. These cookies are sweet, buttery and delicious. They are as good warm from the oven as they are straight from the refrigerator. I actually think I preferred them cold, but maybe that's because it has been so hot this summer.
These cookies are on the sweet side.   If you don't like very sweet things, you can try to make these without rolling the dough in sugar. When I made these, I didn't have a vanilla bean so I used vanilla extract and it worked perfectly.
Here's a picture of the Lake Winnecook that my husband took the last time we were there.   The colors of the sunsets in Unity are spectacular.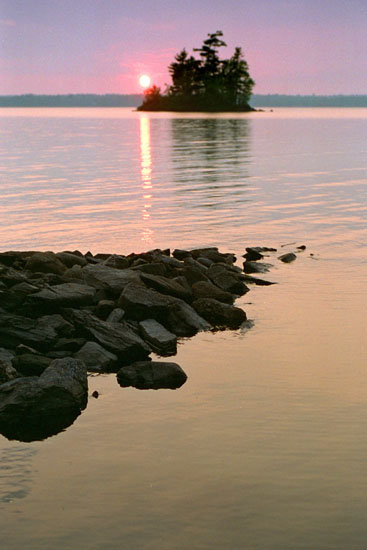 Butter and Jam Thumbprints
Recipe from the Food Network Kitchens

1 3/4 cups all-purpose flour
1/2 teaspoon baking powder
1/2 teaspoon fine salt
3/4 cup unsalted butter (1 1/2 sticks), softened
2/3 cup sugar, plus more for rolling
1 large egg
1/2 vanilla bean, seeds scraped from pod, or 1/8 teaspoon vanilla bean paste or 1 teaspoon pure vanilla extract
1/3 cup raspberry, cherry or strawberry jam

Preheat oven to 350 degrees F. Line 2 baking sheets with parchment paper or silicone mats.

Whisk the flour, baking powder and salt together in a bowl.

In another bowl, whip the butter and the sugar with a hand-held mixer until fluffy, about 5 minutes. Beat in the egg and vanilla until just combined. Slowly beat in the dry ingredients in 2 additions, mixing just until incorporated.

Scoop the dough into 1-inch balls with a cookie or ice cream scoop and roll in sugar. Place about 2-inches apart on the prepared baking sheets. Press a thumbprint into the center of each ball, about 1/2-inch deep. Fill each indentation with about 3/4 teaspoon jam.

Bake cookies until the edges are golden, about 15 minutes. (For even color, rotate the pans from top to bottom about halfway through baking.) Cool cookies on the baking sheets. Serve.

Store cookies in a tightly sealed container for up to 5 days.

Yield: 24 – 30 cookies

One year ago: Grilled Potato Slices with Salt and Vinegar
Two years ago: Frozen Grapes

Print This Recipe