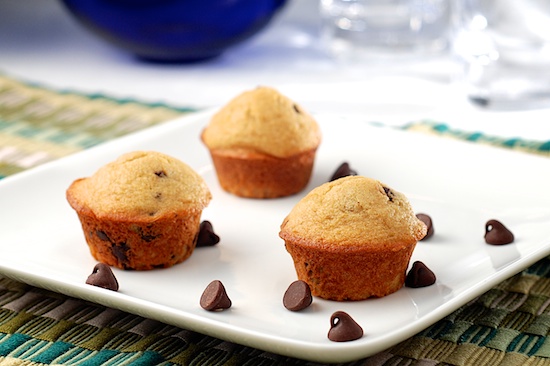 Our boys love homemade muffins for breakfast and I have been searching long and hard for a good chocolate chip muffin recipe. I have tried many, and none of them have been good enough to post on the blog. This one however, makes the cut. These muffins are delicious and quite moist. I think the buttermilk is the key. I also like that they use half white flour and half whole wheat flour.
When I make muffins like these for the boys before school, I cheat a little bit. I skip the whole sifting step. I use my stand mixer and throw the wet ingredients in with the suger, mix them, then I toss in all of the dry ingredients without any sifting. I mix for another minute or so, dump in the chocolate chips, mix again, then spoon the batter into the muffin tin. KitchenAid stand mixers are amazing. If you do a lot of baking, it's worth investing in one if you can. If you don't have a mixer, this is a recipe that you can mix by hand with a wooden spoon. There's no butter to cream, so hand mixing will be fine.
After much searching, this is now my go-to chocolate chip muffin recipe.
Buttermilk Chocolate Chip Muffins
Recipe from Muchin with Munchkin

1/2 cup sugar
1 cup 2% buttermilk
1/3 cup canola oil
1 large egg
1.5 teaspoons vanilla extract
1 cup whole wheat flour
1 cup all purpose flour
2 teaspoons baking powder
1 teaspoons baking soda
1/4 teaspoon salt
1 1/2 cups semi sweet chocolate chips

Preheat oven to 400F.

Spray a 12 half cup sized muffin tin (or a mini-muffin tin) with cooking spray. You can additionally use paper liners, but this is optional.

In a medium bowl whisk together sugar, buttermilk, canola oil, egg and vanilla extract.

In a large bowl sift together whole wheat flour, all purpose flour, baking powder, baking soda, and salt.

Slowly add the buttermilk mixture to the bowl and fold until just combined. Gently fold in chocolate chips.

Divide the batter between the 12 muffins cups or 24-mini muffin cups and bake for 20-25 minutes (10 – 12 for mini-muffins) until the tops are golden.

Cool five minutes in the pan and transfer to a wire rack to finish cooling.

Yield: 12 Muffins or 24 mini-muffins


One year ago: Soft Chocolate Cookies with Peanut Butter Frosting
Two years ago: Chicken and Rice Stoup
Three years ago: Pineapple and Meyer Lemon Sorbet
Four years ago: Whoopie Pies!
Five years ago: Smashed Sweet Potatoes

Print This Recipe