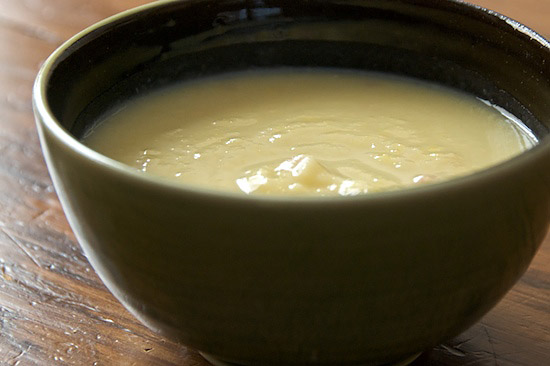 I found these beautiful squash at our local farmer's market last Thursday (picture below).   I had never seen a squash like this before.   They were like a cross between zucchini and yellow summer squash.   Aren't they pretty?   I saw them sitting there and couldn't pass them up.   I have since learned that they're called zephyr squash.
I subscribe to a blog called 101 Cookbooks.   It's a beautiful blog with lots of very healthy vegetarian recipes.   I recently received this soup recipe and filed it away as something to try.   When I saw the beautiful squash, I knew I had to try the soup recipe.   I usually like hearty soups when the weather starts to get cold.   Despite the fact that it's June in NYC, we've had damp, cold weather for the last month, so it was perfect weather for soup-making.
The soup is easy to make and I love all of the fresh ingredients in it.   I also love the fact that you throw the squash and potatoes in unpeeled.   My mother always tells me that all of the vitamins are in the skin!
You can make this soup as spicy (or not) as you like by varying the amount of red pepper flakes that you throw into it.  You can also vary the strength of the rosemary flavor by varying the length of time that the rosemary cooks.  I removed the rosemary after the soup had boiled for a few minutes, and mine has a nice, subtle rosemary flavor.   I  used 2 lbs. of squash (as opposed to the 1 1/2 pounds that the recipe calls for) because that was what I had on hand.
My husband really liked this soup.    I'll try it again when the zucchini becomes really plentiful at the end of the summer, or if I see any more beautiful squash at our farmer's market.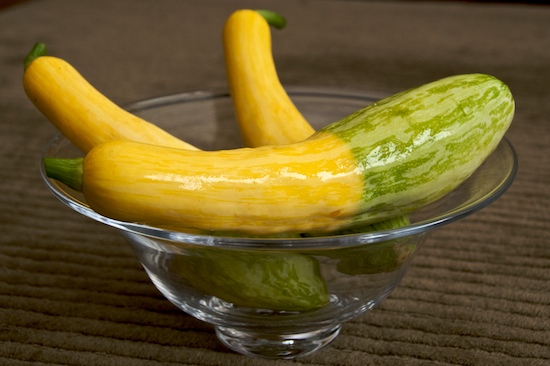 Buttermilk Summer Squash Soup
Recipe from 101 Cookbooks

A generous splash of olive oil or 3 tablespoons butter
3 large shallots, chopped
A couple pinches of fine-grain sea salt
Pinch of crushed red pepper flakes
3-inch sprig of rosemary
1 1/2 pounds yellow or green summer squash, cut into 1/2-inch thick slices/chunks
3/4 pound potatoes, un-peeled, cut into 1/4-inch thick pieces
3 medium cloves garlic, chopped
3 cups lightly flavored vegetable stock or water (I used chicken broth)
2/3 cup buttermilk

garnish with: fresh herbs, toasted almonds, a generous drizzle of olive oil/ melted butter, and/or some crumbled feta

Heat olive oil/butter in large thick-bottomed pan over medium heat. Stir in the shallots, salt, red pepper flakes, and rosemary. Saute until shallots are tender – a couple minutes. Stir in the squash and potatoes, and cook until the squash starts to get a bit tender – a few minutes. Stir in the garlic, remove the sprig of rosemary, and then add the stock (or water) to the pot. Bring to a boil and then reduce the heat to a simmer, stirring occasionally until potatoes are tender, about 20 minutes.

Puree with a hand blender. If you like a silkier soup feel free to pour the soup through a strainer. Slowly whisk in the buttermilk, taste, and adjust the seasoning – adding more salt if needed. You can top the soup with a bit of crumbled feta, some toasted almonds, a drizzle of olive oil, and a small pinch of red pepper – but it's perfectly good straight as well.

Yield:  6 – 8 servings