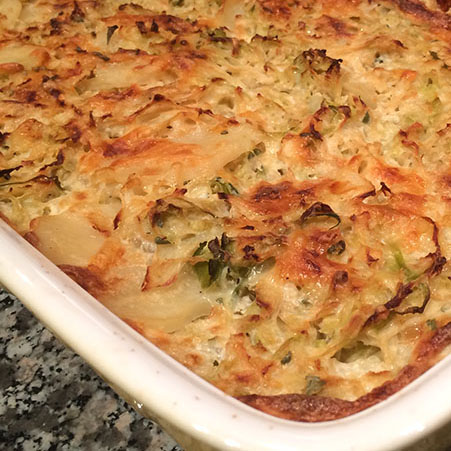 This recipe is very similar to a Polish cabbage and bacon casserole recipe that I published a couple of years ago. This recipe is vegetarian. I have to admit that this is so good that I don't miss the bacon. Don't get me wrong – I love bacon, but my vegetarian son is subtly pushing all of us to cut back on our meat consumption, and I'm finding that I don't really miss the meat in many of the vegetarian dishes that I prepare.
The original recipe provides long, multi-step directions about how to cook, shred and drain the cabbage. I use pre-shredded cabbage from Trader Joe's. Three 10-ounce bags are perfect for this recipe. If you can't find pre-shredded cabbage, core your cabbage, manually shred it and dump it right into the boiling pot of water with the potatoes.
This recipe reheats very nicely, and you can also microwave it to eat as a leftover.
If you like cabbage and don't want to fuss with the potatoes and cheese, here's a great video about how to cook cabbage, and the benefits of shredding it. If you try one of these methods, I hope your cabbage doesn't turn out like Jane's.
Cabbage and Potato Gratin
Recipe modified slightly from Martha Rose Shulman of NY Times Cooking

Salt
About 2 pounds green or savoy cabbage
1 pound baking potatoes, such as russets, peeled and sliced thinly (slightly less than 1/4 inch thick)
2 garlic cloves, peeled
2 cups milk
1/2 cup crème fraîche
Ground black pepper
4 ounces Gruyère, grated (1 cup, tightly packed)
1 ounce Parmesan, grated (1/4 cup)
2 teaspoons finely chopped or slivered fresh sage

Shred the cabbage. You can do this using a knife or your food processor. If you're uncertain about shredding, here's a link to show you how to do it.

Bring a large pot of water to a boil, salt generously and add shredded cabbage and potato slices. Reduce heat to medium-high and boil gently for 5 minutes.

Drain cabbage and potatoes into a colander and let drain over a bowl or in the sink. Let drain for 5 minutes. You want to make sure most of the excess water has drained.

Heat oven to 375 degrees. Butter a 3-quart baking dish or gratin. Cut one of the garlic cloves in half and rub the dish with the cut surface. Then dice all the garlic and toss with cabbage and potatoes.

In a bowl, whisk together milk, crème fraîche, about 1 teaspoon salt and the pepper. Pour into bowl with cabbage and potatoes, add cheeses and sage, and gently toss together. Scrape into baking dish. The mixture will be soupy. Optional: sprinkle a handful of gruyere and some Parmesan on top of the mixture in the baking dish. This will make the casserole brown nicely.

Bake 1 hour 15 minutes to 1 hour 30 minutes, until top is golden brown. During the first 45 minutes, press the vegetables down into the liquid in the baking dish every 10 to 15 minutes, using the back of a large spoon. The gratin will still be bubbling when you remove it from the oven, and you might see liquid in the baking dish. Wait 10 to 15 minutes before serving, until liquid is reabsorbed.

Yield: 6 servings

One year ago: Lemon Fusilli with Arugula
Two years ago: Chocolate Nudges
Three years ago: Couscous with Peas and Mint
Four years ago: Soft Chocolate Cookies with Peanut Butter Frosting
Five years ago: Alfajores
Six years ago: Baked Tortilla Chips
Seven years ago: Brazilian-Style Collard Greens
Eight years ago: Braised Pork Chops

Print This Recipe