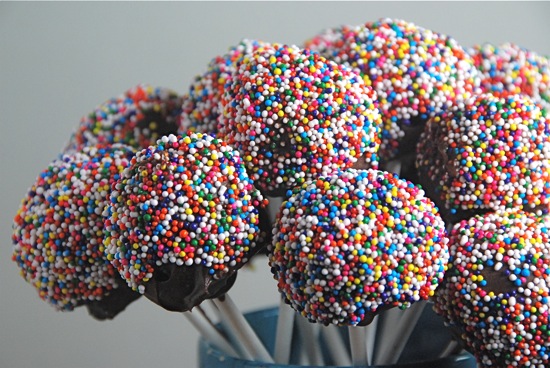 These cake pops have been making the blog rounds for what seems like a couple of years now. I wanted to make them last summer, but I didn't have the chocolate bits that were needed, so I never made them. Last week it was raining so we took the kids to Riverhead to run some errands and we passed a Michael's that was in the same shopping center as a Home Depot. I took the boys into Michael's and Charles went into Home Depot. We were both happy. Michael's had the chocolate and the lollipop sticks that I needed, so I knew I was in business.
I believe this recipe originates from a great blog called Bakerella (she just went to the Emmy's – check out her photos, they're great!) Many other blogs have posted the recipe, but I believe that Bakerella is the source. This recipe is very easy, but fairly labor intensive and time consuming. There are many steps, but each one is easy. I found these to be a very sweet dessert – delicious, but sweet.   The boys LOVED them. I now have great plans to make these for the boys' birthdays.  Can't you see them now, wrapped in a little cello bag with a pretty ribbon around it?   If you have a minute, check out the Bakerella site.  She is amazingly creative with her cake pops.
Because I wasn't sure if I was going to like these, I took a shortcut and used a boxed mix for the cake. I did make my own frosting though, because I refuse to buy any canned frosting because they ALL contain trans fats. Yuck! I used to eat canned frosting by the spoonful when I was in college, but no more. Now I always make my own because there are so many great, easy recipes out there.
Update: 3/4/11 I made alien cake pops for my son's birthday celebration in school. I wrapped them individually and they were a big hit.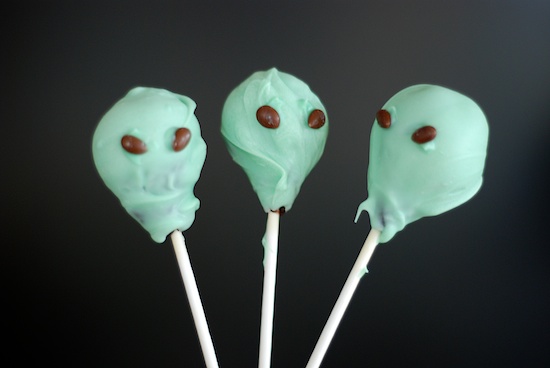 Cake Pops
Adapted from recipe at Bakerella.com

1 (14.25 oz) box cake mix, any flavor
1/2 – 3/4 cup frosting, any flavor*
1 (24 oz) package of chocolate bark/candy melts (white or chocolate)
Sprinkles
Lollipop sticks
Large piece of Styrofoam

Quick Vanilla Buttercream Frosting
Recipe from Gale Gand

1 1/2 cups confectioners' sugar
1/2  cup butter (one stick)
1/2 teaspoon vanilla extract
1 tablespoon whipping cream

Frosting:

In a standing mixer fitted with a whisk, mix together sugar and butter. Mix on low speed until well blended and then increase speed to medium and beat for another 3 minutes.

Add vanilla and cream and continue to beat on medium speed for 1 minute more, adding more cream if needed for spreading consistency.

Cake Pops:

Cook the cake mix as directed in a 13 x 9″ pan. Let the cake cool. Once the cake is cook. break it up into chunks with your hands and put 1/4 of the cake into the bowl of a food processor. Pulse several times until you have fairly small cake crumbs. Pour the crumbs into a bowl. Repeat with the remaining cake.

Once the entire cake is crumbs, mix in 1/2 cup of frosting.   Mix until you have a thick, truffle-like consistency.   You may find it easier to mix it with your hands.   Use additional frosting if necessary.

Form the cake-frosting mixture into 1″ balls and place on a cookie sheet.   You should be able to get 40 – 50 balls, depending upon how big you make them.   Chill the cake balls in the refrigerator for at least an hour, and overnight if you can do it.

Melt the chocolate in the microwave according to the package directions.  I melted mine in a big mug.   Dip the lollipop sticks into the chocolate (dip about an inch) and then stick them into the cake balls.     Insert the stick a little more than halfway into the pop.  Once all the cake balls have sticks, dip each cake ball into the chocolate by holding/turning the stick.   Once the entire pop is covered, let the excess chocolate drain back into the mug.   Immediately dip the pop into the sprinkles before the chocolate has a chance to set.    Once the sprinkles are on, put the lollipop stick into the Styrofoam so it can set.  Repeat until all the cake pops are complete.

Yield:  40 – 50 pops

Print This Recipe