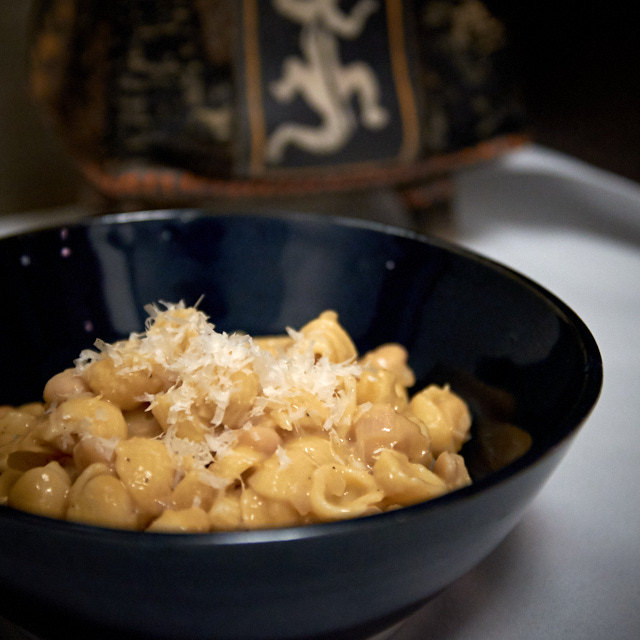 If you're looking for a quick, vegetarian, weeknight meal, this is it. A can of beans, some pasta and a simple beurre blanc sauce combine to make something marvelous.

Don't let the directions throw you. After the beans and pasta are cooked, don't drain the pasta water. Much will have evaporated or will have been absorbed by the pasta. The remaining starchy water makes a really nice sauce when combined with the beurre blanc. This is one of those recipes that has a fairly simple list of ingredients, but tastes very sophisticated when cooked.
My vegetarian son had two helpings. That's a home-run in this house.



Cannellini-Bean Pasta With Beurre Blanc
Recipe from the New York Times

1 (15-ounce) can cannellini beans, rinsed
3 cups chicken or vegetable stock
1/4 cup white wine
1/4 cup white wine vinegar
1 shallot or small white onion, finely chopped
3 tablespoons unsalted butter
1 cup small pasta, like shells
Kosher salt and black pepper
Grated Parmesan, Pecorino Romano or other strong hard cheese, to finish


Add the beans and stock to a large pot, and bring to a boil. Turn the heat down, and let simmer for 20 minutes.

While the beans cook, combine the wine, vinegar, shallot and butter in a small saucepan. Simmer over medium-low for about 15 minutes, shaking the pan as the liquid reduces to keep it from burning. Turn off the heat, and set the beurre blanc aside.

Stir the pasta into the beans and cook, stirring occasionally, until the pasta is cooked through, about 10 more minutes. Stir in the beurre blanc, and season generously with salt and pepper. Serve immediately with grated cheese on top.

Yield: 2 servings


One year ago: Chocolate Nut Zucchini Bread
Two years ago: No Bake Healthy Breakfast Cookies
Three years ago: Salted Caramel and Chocolate Rice Krispies Squares
Four years ago: Broiled Flounder with Parmesan "Caesar" Glaze
Five years ago: Chocolate Sugar Cookies
Six years ago: Lemonade Cake
Seven years ago: Pumpkin Scones
Eight years ago: Pumpkin Chocolate Chip Muffins
Nine years ago: Beef, Cheddar and Potato Pie
Ten years ago: Mexican Chocolate Tofu Pudding
Eleven years ago: Pumpkin Chocolate Chip Cookies

Print This Recipe