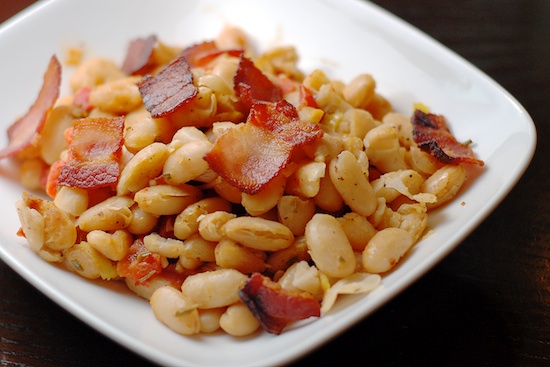 What a delicious side dish!   A big bowl of these beans could have been my whole dinner the other night, they were that good and that satisfying. They're also full of flavor.  It didn't hurt that the dish is full of bacon.  Isn't everything better with bacon?
I used canned cannellini beans because they're so quick and easy to use and I usually have some in my kitchen cabinets.   I always rinse my canned beans before using them because they come in a thick sludge that I don't find appealing.   One of these days, I'm going to try to cook my own beans.    Big bags are so inexpensive, and if you soak them overnight, then boil them, they're supposed to be better than the canned version.  I can't say I've ever done it, but I'm going to.  I'll let you know how it works out.
One of my challenges with this recipe was trying to stop one of my sons from eating all of the bacon before I had a chance to add it to the beans.   I'm not complaining because my boys don't usually eat much of anything, so when one of them (this was my meat-eater, by the way, the one that won't touch fruits or vegetables) eats something real, I hate to squelch him.  Thanks goodness I had made a couple of extra slices from the get go.  In then end, I probably ended up with the amount called for in the recipe.
Cannellini Beans with Lemon, Roasted Red Peppers, and Bacon
Recipe from Fine Cooking, October 2010

1 medium lemon, scrubbed
2 oz. thick bacon (about 2 slices), cut crosswise into thin strips
2 Tbs. extra-virgin olive oil
1 tsp. chopped fresh rosemary
1 large clove garlic, minced
1/8 tsp. crushed red pepper flakes
Two 15-1/2-oz. cans cannellini beans, rinsed and drained
3/4 cup lower-salt chicken broth
2 jarred roasted red peppers, cut into small dice
Freshly ground black pepper
Kosher salt

Using a vegetable peeler, shave six 1-inch-wide strips of zest from the lemon (avoid the white pith). Cut the strips crosswise 1/4 inch wide. Juice half of the lemon and reserve the juice and zest separately.

In a 3-quart saucepan over medium heat, cook the bacon with 1 Tbs. of the oil, stirring occasionally, until it renders most of its fat and starts to brown, 3 to 5 minutes. Using a slotted spoon, transfer the bacon to a paper-towel-lined plate.

Remove the pan from the heat and add the rosemary, garlic, and red pepper flakes; cook, swirling the contents of the pan, until sizzling steadily and fragrant, about 30 seconds. Return the pan to medium heat and add the beans, chicken broth, roasted peppers, and lemon zest. Bring to a boil; then reduce the heat to maintain a steady simmer. Cook, stirring occasionally, until the broth thickens and the flavors meld, 10 to 15 minutes. Stir in 1 Tbs. of the lemon juice and 1/2 teaspoon pepper. Season to taste with more lemon juice or salt. Serve drizzled with the remaining 1 Tbs. oil and sprinkled with the bacon.

Yield: 6 servings as a side dish

Print This Recipe