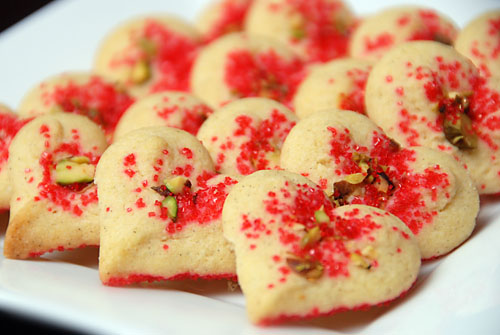 I'm in two book clubs.  One is co-ed and the other is all mothers of multiples.    My ladies book club just finished reading Three Cups of Tea: One Man's Mission to Promote Peace… One School at a Time.  I highly recommend it.   It's incredibly inspiring and by the end you really believe that one man can make a huge difference.    Most of the story takes place in Pakistan, which became the inspiration for these cookies that I'm bringing to the meeting tonight.   Our lovely hostess will be serving Chai tea to go with them.
One of my sons saw the cookies and said, "Oooo, are these for us?"   He was disappointed when I told him that they weren't, but his disappointment quickly evaporated after he tried the cookie dough.   The strong taste of cardamom made him spit it out.  He also didn't love the look of the nuts on the top.   The cookies are still cooling, so it will be interesting to see if he likes them cooked.
I think the cookies are pretty good, but I'm still partial to plain sugar cookies, or spritz cookies with a little almond flavoring.   If you love the taste of cardamom, these cookies are for you!  If you don't get around to trying the cookies, I highly recommend that you try the book.
Cardamom Spritz Cookies
Recipe by Mary Ellen Rae, printed in the Los Angeles Times

1 cup (2 sticks) unsalted butter, softened
1/2 cup superfine sugar
1 teaspoon vanilla extract
2 egg yolks
2 cups flour
1/2 teaspoon salt
1 teaspoon ground cardamom
1/4 cup sparkling decorative sugar
1/4 cup chopped pistachio nuts

Heat the oven to 375 degrees. Using an electric mixer, cream the butter until smooth. Add the sugar and beat for one minute. Add the vanilla extract and egg yolks and beat an additional minute.

Sift together the flour and salt. Spoon the flour mixture into the butter mixture and add the cardamom. Beat on low speed, then increase to medium and mix until the batter is combined.

Spoon the dough into a cookie press and press out onto ungreased baking sheets. In a small bowl, combine the sparkling sugar and the pistachio nuts, then sprinkle some on each cookie.

Bake just until the edges of the cookies start to turn a pale golden color, about 8 to 10 minutes. Remove the cookies from the baking sheet immediately and cool on a wire rack. The cookies will firm up as they cool. When they are completely cool, store in an airtight container. They may be kept frozen up to two months.

Yield:  ~ 5 dozen cookies

Print This Recipe