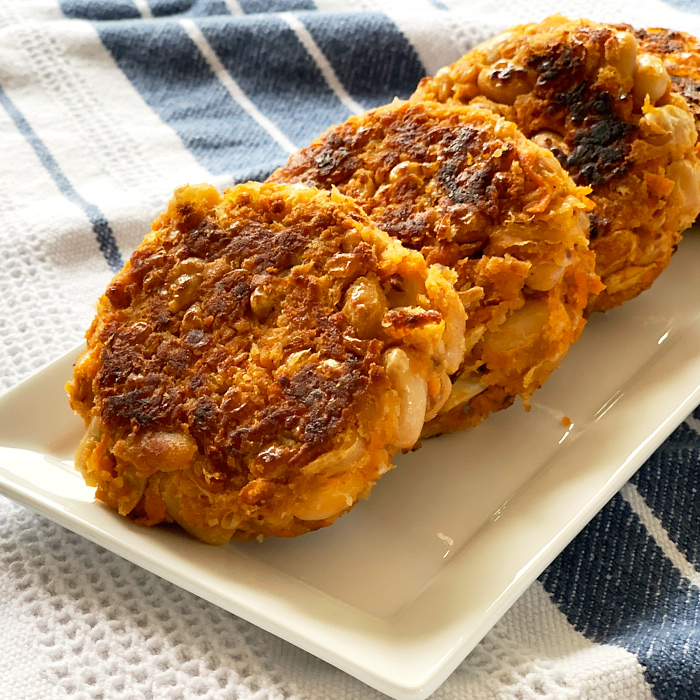 I love experimenting with veggie burgers, and in my book, this recipe is a winner. It's very tasty even without condiments and when you first make them, they hold together pretty well. My husband and I ate them for a couple of days, because of course, the boys wanted nothing to do with them. When I reheated them in the microwave on day two and three, they became a bit more crumbly/fragile, but not terribly so.

This is one of those recipes where you get a decent amount of flavor from a handful of ingredients, and the ingredients in this case aren't even very fancy.

Our lockdown due to coronavirus continues in NYC. Our city has been hit very hard and as a result we haven't left our apartment in 38 days. The good news is that the curve is starting to flatten in our city and state. We are grateful that we are in good health and haven't been infected.

Definitely try these burgers if you're looking for a new and different veggie burger. As I mentioned, they don't need condiments, but if you happen to have some guacamole or an avocado to put on your burger, it's a nice addition.
Carrot and White Bean Burgers
Recipe from Smitten Kitchen

Olive oil
1/2 cup panko-style breadcrumbs
3 shallots, or 1 small onion, diced (I used shallots – yum!)
1 tablespoon tomato paste
1 1/2 teaspoons kosher salt (Diamond Crystal is the best to use)
1 cup packed grated carrot (from 2 medium carrots)
1 1/2 tablespoons apple cider vinegar
Two 15-ounce cans cannellini or other white beans, drained and rinsed
1 large egg, beaten
Freshly ground black pepper

Heat 1 Tablespoon olive oil in a large skillet over low heat. Add the panko and cook, stirring often, until lightly browned and crisp, 3 to 5 minutes. Transfer crumbs to a large bowl, then return the pan to the heat.

Add 2 Tablespoons olive oil to the skillet, followed by the shallot or onion. Cook until softened and lightly golden, 8 to 10 minutes. Stir in the tomato paste, salt, and carrots and stir frequently until the carrots are soft and a bit blistered, another 8 to 10 minutes. Add the vinegar, scraping up all the browned bits until the pan is dry. Remove from heat and add the bowl with the toasted panko. Add beans and use a wooden spoon or spatula to very coarsely mash the mixture until a bit pasty and the mixture sticks together in places—there should still be plenty of beans intact. Add pepper, and salt if needed, to taste. Stir in the egg. Shape into 6 patties (I used a 1/2 cup measure as a scoop.)

To cook the burgers, heat a thin layer of olive oil in a wide skillet over medium heat and carefully cook until browned and slightly firm to the touch, 3 to 4 minutes per side. It may be necessary to cook in batches. Serve hot or at room temperature with your favorite condiments (although none are really necessary.)

Yield: 6 burgers

One year ago:  Ultranutty Pecan Bars
Two years ago:  Chouquettes
Three years ago:  Chocolate Ganache Cake
Four years ago:  Oatmeal Scotchies
Five years ago:  Lemon Herb Quinoa with Spring Peas and Basil
Six years ago:  Avocado Toast
Seven years ago:  Sour Cream Coffee Cake with Chocolate Cinnamon Swirl
Eight years ago:  Lemon Sugar Cookies
Nine years ago:  Chocolate Dutch Baby
Ten years ago:  Meyer Lemon Sorbet
Eleven years ago:  Chewy Amaretti Sandwich Cookies
Twelve years ago: Candied Carrots



Print This Recipe