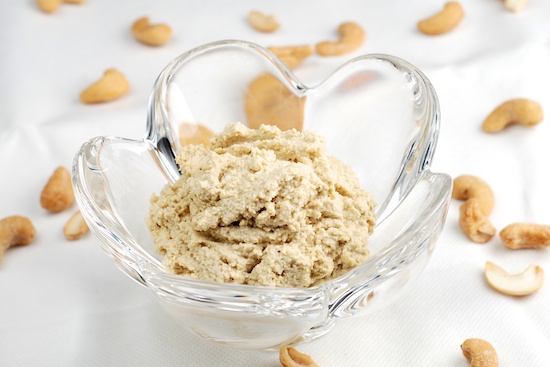 I have quite a few friends who are vegetarian/vegan. At a recent dinner with some of my college buddies, I learned about cashew cheese which sounded delicious. My friends Mike and Wendy assured me that I'd easily find a recipe online. I found a recipe months ago, but I was slow to make it because of the ingredient list which included nutritional yeast. I had never seen nutritional yeast in an ingredient list before, so I was hesitant to buy it, knowing that the bulk of it would probably just sit in my kitchen cabinet and rot. By the way, nutritional yeast is a complete protein and it's loaded with B vitamins. I've got to figure out a way to get it into my son, the vegetarian.
Well, a couple of weeks ago my friend Kathleen sent me a recipe for pesto that would be great for my boys because it was healthy, and it also contained nutritional yeast. I informed her that I'd try the pesto, but I didn't have high hopes for the boys liking it. Kathleen's pesto recipe got me to buy some nutritional yeast, and once I had it, I immediately tried this cashew cheese.
This is great on crackers. It reminds me a bit of hummus and a bit of Boursin cheese, but with a slightly different flavor. I think it would be delicious spread on bread used for a vegetarian sandwich.
Cashew Cheese
Recipe from Chocolate and Zucchini who adapted it from The Real Food Daily by Ann Gentry

1 1/2 cups plain cashew nuts (not roasted or salted)
1/4 cup water
2 tablespoons dry white wine (optional; substitute water if preferred)
2 teaspoons freshly squeezed lemon juice
2 tablespoons nutritional yeast
2 cloves garlic, finely minced
1/2 teaspoon fine sea salt
freshly ground pepper

Place the nuts in a bowl, cover with water and let stand for 2 hours.

Drain the nuts and place them in the bowl of a food processor. Add 1/4 cup of water and the rest of the ingredients, and mix until thoroughly puréed, stopping to scrape the sides of the bowl every once in a while. Add additional water if necessary and blend again to adjust the consistency; the cheese will get slightly more solid as it sets.

Transfer to a bowl, cover, and let stand somewhere cool for 24 hours before placing in the fridge, where it will keep for another 5 days.

Yield: 1 1/2 cups

One year ago: Carole's Eggplant Parmigiana
Two years ago: Breakfast Apple Granola Crisp
Three years ago: Billy's Vanilla, Vanilla Cupcakes
Four years ago: Cinnamon Pancakes

Print This Recipe