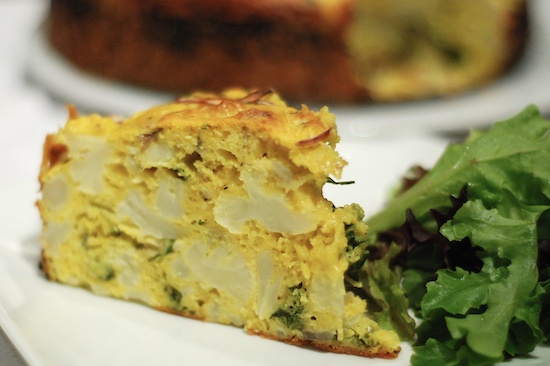 I found a beautiful head of cauliflower at my local farmer's market recently and I also came across this very interesting recipe from Yotam Ottolenghi, a chef and restaurant owner in England.   He owns four eponymous restaurants in London called Ottolenghi.   On their website, they say, "We are highly aware of how unusual it is, in our time, to find food that is closer to the source, uncomplicated, unadulterated, emanating from genuine instincts."
Ottolenghi is also the author of a weekly column in the Guardian (a British newspaper) called The New Vegetarian.  This recipe was published in one of his columns this past October (2010).
I thought this cake was delicious and very interesting.    It was like nothing I had ever made before.   It almost has the consistency of a cake, but it's not sweet at all.   Although this looked a little bit like a quiche,  the consistency was definitely more cake-like.   My husband and I ate this for three or four days in a row because, of course our boys wouldn't even taste it.   They weren't fond of the color, and they definitely didn't like the looks of the huge cauliflower chunks in it.
A slice of this and a green side salad was a perfect lunch and a perfect light dinner.  In the recipe below, I translated the ingredients from European measurements (grams) to American measurements (pounds, cups and Tablespoons).   If you're trying to get some meat out of your diet and you like cauliflower, this is a perfect recipe to try.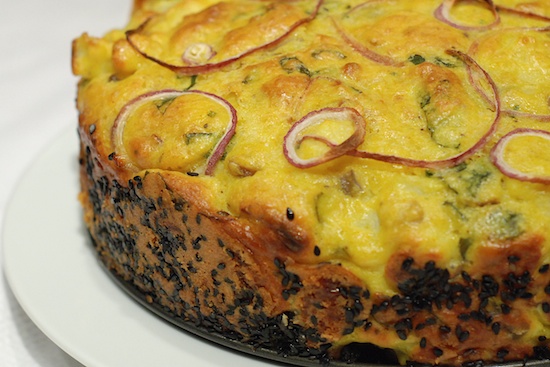 Cauliflower Cake
Recipe from Yotam Ottolenghi

1 medium cauliflower, (~1.5 lbs.)
1 large red onion, peeled
1/2 cup olive oil
½ tsp finely chopped rosemary
10 medium eggs
~2 Tablespoons chopped basil
~1 1/2 cups plain flour
2½ tsp baking powder
½ tsp ground turmeric
~2 cups grated parmesan
Salt and black pepper
Melted butter, for greasing
2 tbsp black sesame seeds (or black onion seeds or plain sesame seeds)

Heat the oven to 350F. Break the cauliflower into medium florets, put them in a pot with a teaspoon of salt, cover with water and simmer for 15 minutes, until quite soft. Strain, and leave in the colander for a few minutes to get rid of all the water.

While the cauliflower's cooking, prepare the batter. Cut a few thin rings off one end of the onion and set aside (these will go on top of the cake); coarsely chop the rest. Heat the oil in a pan and on a low heat sauté the chopped onion and rosemary for eight minutes. Remove from the heat, leave to cool down, add the eggs and basil, and whisk.

Sift the flour, baking powder and turmeric into a large bowl, and add the parmesan, one and a half teaspoons of salt and plenty of black pepper. Add the egg mix and whisk to eliminate lumps. Add the cauliflower and stir gently, trying to keep some florets whole.

Use baking parchment to line the bottom of a 9-inch round springform pan. Brush the sides with butter, put in the sesame seeds and toss them around so they stick to the sides. Tip in the cauliflower mix and arrange the onion rings on top.

Bake the cake in the centre of the oven for 45 minutes, until golden brown and set. Serve just warm or at room temperature.

Yield:  6-8 servings

One year ago: Krumkake
Two years ago: Snickerdoodles

Print This Recipe