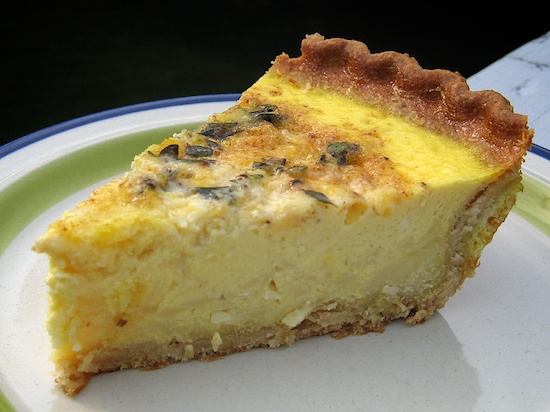 As part of the CSA to which I belong, I get a share of eggs. I turned my half-dozen eggs into a beautiful cheese quiche. The recipe is from Mark Bittman.   I love how quick, simple and delicious his recipes are.
The recipe below offers a couple of options: heavy cream, half-and-half or milk andcheddar or gruyere cheese. I used half-and-half and gruyere cheese. Gruyere is one of my favorite cheeses to use in a quiche. I much prefer it to cheddar. I also threw in 2 teaspoons of fresh thyme from my garden.  Yum!
I love to have a quiche around when we have house guests.  You can make it the night before, and it's so easy to heat up for breakfast.   With a side of fruit, you're all set.
Basic Cheese Quiche
Recipe from How to Cook Everything by Mark Bittman

1 (9 1/2 inch) deep dish pie shell, unbaked and chilled
6 eggs, at room temperature
2 cups grated cheddar cheese or gruyere cheese (or the lesser known Emmenthal or Cantal cheese)
2 cups heavy cream or half-and-half or whole milk, gently heated just until warm
1/2 teaspoon salt
1/4 teaspoon cayenne

Preheat oven to 425°; prick the crust all over with a fork. Line it with tin foil and weight the bottom with a pile of dried beans, rice, or other weights that will sit flat on the surface. Bake 12 minutes; remove from the oven and carefully remove the weight and foil; turn the oven to 325°.

In a bowl, combine the eggs, cheese, cream, and seasonings; beat until well blended. Place the baked crust on a baking sheet; pour the egg mixture into the crust, right to the top. Carefully transfer the baking sheet to the oven; bake 30-40 minutes, until the mixture is set but still moist; it should still jiggle just a little in the middle (cover pie crust edges with foil if getting too brown). Cool on a rack; serve warm or at room temperature.

Yield: 6 servings

Print This Recipe