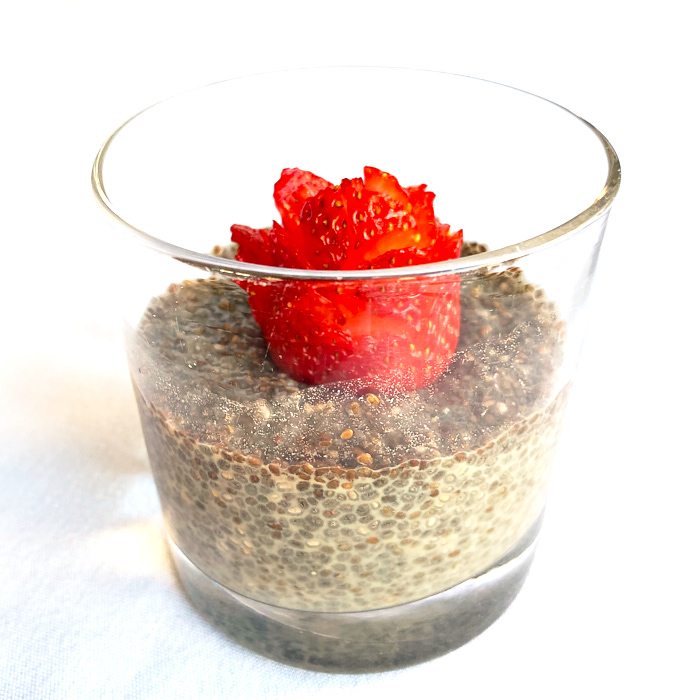 Ch-ch-ch-chia!
One of our sons is a runner, and after I read Born to Run: A Hidden Tribe, Superathletes, and the Greatest Race the World Has Never Seen by Christopher McDougall (great book, by the way), I suggested that he, like the runners in the book, start to make chia seeds part of his regular diet. I was delighted when he agreed to start to mix the seeds into his morning yogurt. Now he asks me to make chia pudding regularly. Three out of the six of us really like it. Unfortunately my son is not running at the moment due to the coronavirus lockdown. We live in a large apartment building and we are staying inside to help prevent the spread.

Chia seeds are often called a "superfood." They're loaded with good things for your body like: omega-3 fatty acids, fiber, protein, calcium and zinc, among other things. The seeds themselves can be eaten whole, and don't have to be ground like flax seeds do. Here's a great article from the Harvard School of Public Health on chia seeds.
I make my pudding with oat milk, which is not pure white like cow's milk, which gives my pudding a lightly brownish tinge. I think it actually looks like a bowl of birdseed, but don't let that fool you, it's really delicious.

You can make the pudding with any type of milk you like. Once you mix in the chia seeds and let the pudding sit for a few hours, it will develop the consistency of pudding. It's a great afternoon snack, or dessert, and it's good for you too. It's hard to beat a dessert like that.

One of my dear friends gave me a bottle of cinnamon vanilla maple syrup for Christmas, and I use it exclusively in this recipe. The cinnamon flavor is a nice addition.


Chia Pudding

1/2 cup of milk (I like to use oat milk, but any type of milk will do)
2 Tablespoons chia seeds
1 teaspoon maple syrup
1/2 teaspoon vanilla extract
tiny pinch of salt (optional)
toppings of your choice (fruit, nuts, etc.)

In a glass or a bowl, stir together the milk, chia seeds, maple syrup, vanilla and salt (if using.) Stir well to thoroughly combine everything.

Once the mixture is combined, let it sit for 5 minutes and then stir it again to break up any clumps. Cover the mixture and refrigerate it for at least two hours or overnight. Once the pudding is set, top with your favorite fruit or nuts, or eat it plain.

Yield: one serving


One year ago:  Pie Crispies
Two years ago:  Gingerbread Biscotti
Three years ago:  Sweet, Salty, Spicy Party Nuts
Four years ago:  Oatmeal Scotchies
Five years ago:  Coconut Chocolate Chip Magic Granola Bars
Six years ago:  Double Chocolate Banana Bread
Seven years ago:  Pumpkin Cake Doughnuts
Eight years ago:  Ricotta Gnocchi
Nine years ago:  Baja-Style Fish Hand Pies
Ten years ago:  Chicken, Ham and Swiss Roulades
Eleven years ago:  Berry Sorbet
Twelve years ago: Sweet Corn Muffins

Print This Recipe