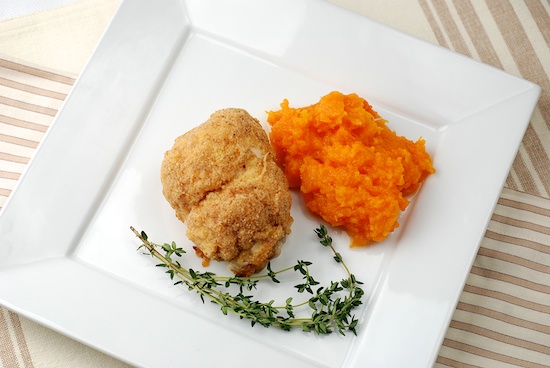 I made these the other night and they were delicious. I almost made them two nights in a row, they were that good. I make another version of chicken roll-ups that are pan fried. These are slightly different because they are breaded and baked. I was surprised by how nicely these roll-ups browned in the oven.
I bought thinly sliced chicken breast cutlets, because they roll very easily. I also bought 6 slices of ham and 6 slices of cheddar cheese from the deli counter. I tied the rolls up with cooking twine. If you choose to use twine, don't forget to remove it before serving. The twine gets baked into the breading so it's a bit hard to see.
The boys had no interest in these. I didn't mind because I loved them so much myself.  These will definitely get added to our regular weekly rotation, despite the objections from my vegetarian son, who would be very pleased if the rest of the family followed his lead.
Chicken, Ham and Cheddar Roll-Ups
Recipe adapted slightly from theKitchn

3 tablespoons unsalted butter, melted
1/4 cup all-purpose flour
1 teaspoon kosher salt
1/2 teaspoon garlic powder
1/2 teaspoon black pepper
2 large eggs, lightly beaten
1 cup fine bread crumbs
6 chicken breast cutlets (approximately 1 pound)
4 ounces thinly-sliced ham or prosciutto
6 ounces sliced cheddar

Preheat oven to 350°F. Pour the melted butter in the bottom of a shallow (8 x 11-inch) baking dish.

Have three shallow bowls (or cake pans) set aside. In one bowl whisk together the flour, salt, garlic powder, and pepper. Add eggs to the second and lightly beat. Place the bread crumbs to the third.

Pat chicken cutlets dry. Cover each cutlet with a slice of ham and a slice of cheese, and roll tightly. Dip each chicken roll-up in the flour, shaking off the excess. Coat the roll-up in the egg, followed by the bread crumbs. Tie the roll-up with kitchen string or secure with toothpicks. Place in the prepared baking dish and repeat with remaining cutlets.

Bake the chicken for 30-35 minutes, basting with butter a few times, until chicken is cooked through. If the chicken is not golden brown, finish under the broiler for a couple of minutes. Remove the kitchen twine. Serve hot, with mayonnaise and Dijon mustard, if desired. (I like to mix the two, for dipping.)

Yield: 6 chicken roll-ups

One year ago: Orange Scented Almond and Olive Oil Muffins
Two years ago: Coconut Blondies
Three years ago: Asian Pork Tenderloin
Four years ago: Black Bean Brownies
Five years ago: Sugar Spiced Nuts

Print This Recipe