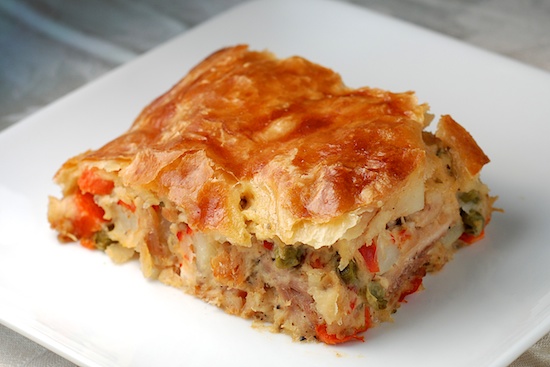 This is a perfect weeknight meal because it doesn't take very long to assemble and it only cooks for 35 minutes. The secret is buying a rotisserie chicken that's already cooked. The meat practically falls off the bone, so it's very easy to shred. The only step that really takes time (and not even that much) is chopping the vegetables. Once that's done, it's a very straightforward and quick process to put this together.
To like this you have to like the taste of tarragon (also called dragon's-wort). It's an herb with a fairly strong and distinctive flavor. If you're a tarragon fan, this recipe is for you.
This chicken pot pie has wonderful structural integrity when you slice into it. It's almost like lasagna in that way. I found it very easy to cut and serve. This will be a go-to recipe for me from now on. It's really delicious. Would the boys try it? Nope.
Chicken Pot Pie
Recipe by Crystal Cook and Sandy Pollock as seen on Oprah.com
2 Tablespoons unsalted butter
1 (3-pound) roasted chicken, boned and shredded
1/4 cup chopped red bell pepper
2 medium shallots, thinly sliced
3 Tablespoons all-purpose flour
2 teaspoons salt
1 teaspoons dried tarragon, crushed
1 teaspoons freshly ground black pepper
2 cups whole milk
1 cup heavy cream
1/3 cup dry white wine
1 1/2 cups fresh peas, blanched
1 1/2 cups carrots, diced and blanched
2 russet potatoes, diced and blanched
1 sheet frozen puff pastry, thawed
Egg wash (lightly whisk together 1 whole egg and 1 teaspoon water)
Preheat the oven to 425°F.
In a large skillet set over medium-high heat, melt the butter. Add the chicken, bell pepper, and shallots, and cook, stirring constantly, for 5 minutes. Stir in the flour, salt, tarragon, and black pepper. Add the milk and cream, and cook, stirring frequently, until the mixture is thick and bubbly, about 10 minutes. Add the wine, peas, carrots, and potatoes and stir until heated thoroughly, about 5 minutes.
Transfer the hot chicken mixture to a 9 x 13-inch casserole dish. Place the puff pastry over the top of the casserole dish. Brush the edges of the puff pastry with the egg wash and press against the side of the casserole dish, then cut slits in the pastry to allow steam to escape. Brush the top of the puff pastry with egg wash—this will help the puff pastry brown evenly. Bake for about 35 minutes or until the top is golden brown. Serve immediately.
Yield:  8 servings
One year ago: Pumpkin Muffins
Two years ago: Go Green Giant Calzone

Print This Recipe