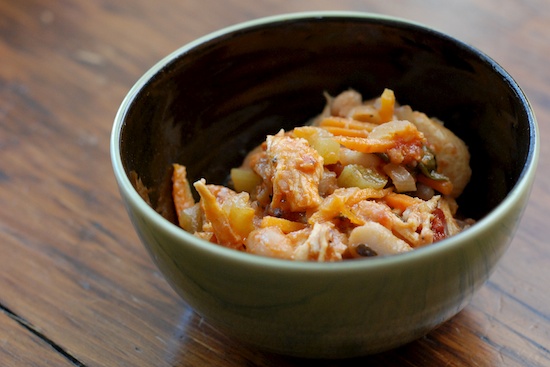 I wanted to make a traditional chicken soup yesterday and when I was hunting for a recipe – believe it or not, I've never made chicken soup before – I found this recipe instead.    I actually thought it was going to be more of a soup than a stew.  I could have added more chicken broth to make it more like a soup, but I thought it was delicious as is.   Although it's called stew, and it doesn't have as much broth as a soup, it's a very light stew.  I ate mine over rice.  Yum! It would also be nice served with crusty bread.   A bowl of this is perfect for lunch.
In an effort to save time, I used boneless, skinless chicken breasts that I cooked by baking them in the oven.  I then shredded them and threw them in the stew.  Next time I'll throw the raw chicken on the bone into the stew as directed. I also added two cloves of garlic for some additional flavor.    I think it would have been a bit bland without the garlic.  The fresh basil adds some nice flavor as well, as does the salt at the end.
Think I had any luck with the boys trying this?   Nope.
Chicken Stew
Adapted from recipe by Giada De Laurentiis

2 tablespoons olive oil
2 stalks celery, cut into bite-size pieces
1 carrot, peeled, cut into bite-size pieces
1 small onion, chopped
2 cloves garlic, chopped or minced
Salt and freshly ground black pepper
1 (14 1/2-ounce) can chopped tomatoes
1 (14-ounce) can low-salt chicken broth
1/2 cup fresh basil leaves, torn into pieces
1 tablespoon tomato paste
1 bay leaf
1/2 teaspoon dried thyme leaves
2 chicken breast with ribs (about 1 1/2 pounds total)
1 (15-ounce) can organic kidney beans, drained (rinsed if not organic)

Heat the oil in a heavy 5 1/2-quart saucepan over medium heat. Add the celery, carrot, and onion. Saute the vegetables until the onion is translucent, about 5 minutes. Add the garlic and cook for 1 minute. Season with salt and pepper, to taste. Stir in the tomatoes with their juices, chicken broth, basil, tomato paste, bay leaf, and thyme. Add the chicken breasts; press to submerge.

Bring the cooking liquid to a simmer. Reduce the heat to medium-low and simmer gently uncovered until the chicken is almost cooked through, turning the chicken breasts over and stirring the mixture occasionally, about 25 minutes. Using tongs, transfer the chicken breasts to a work surface and cool for 5 minutes. Discard the bay leaf. Add the kidney beans to the pot and simmer until the liquid has reduced into a stew consistency, about 10 minutes.

Discard the skin and bones from the chicken breasts. Shred or cut the chicken into bite- size pieces. Return the chicken meat to the stew. Bring the stew just to a simmer. Season with salt and pepper, to taste.

Ladle the stew into serving bowls.

Yield: 4 – 6 servings

One year ago: Creamed Green Cabbage
Two years ago: Chicken Tikka Masala

Print This Recipe