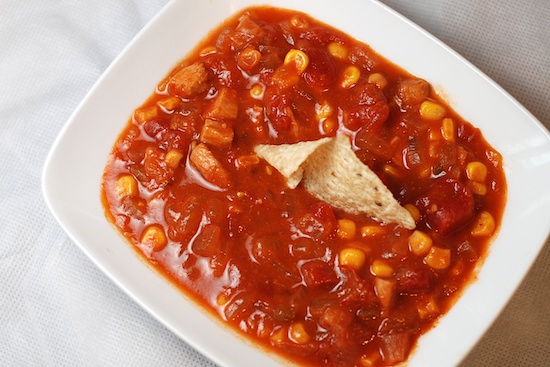 I went shopping to buy the ingredients for my mom's summer pies. As I was standing in line with a basket full of fruit, heavy cream and cream cheese, the woman behind me asked me what I was going to make. I told her about my mom's pies which are one of my favorite summer desserts. She asked me to send her the recipe. She told me that she was having company over the weekend and was looking for a good dessert. We exchanged email addresses. She told me that when I sent her the pie recipe, she'd send me her all-time favorite soup recipe. This happened over a year ago. I hope she tried the pies, they're really good. I wish I had tried her soup recipe before now. It's absolutely delicious! My husband and I both loved it.
When I made the soup, I made a few slight changes. I used Ancho chili powder instead of regular chili powder in the hopes of giving the soup a little extra kick. I found that the soup wasn't spicy at all, even using the Ancho chili powder. That said, it was so delicious, it didn't need to be spicy.  If you like spicy soups, you can increase the amount of jalapeno pepper (and include the seeds) and chili powder.  I found that the tortilla chips weren't really necessary. I used them when I served the soup on the first night. When I ate the soup as leftovers, I skipped the chips altogether and it was great. I didn't use the sour cream because I didn't have any on hand.  To make this more of a meal, you can add a can of drained black beans.
This is now one of my favorite soups.

Chicken Tortilla Soup
Recipe from Cooking Light, September 1997
1 tsp olive oil
1 cup chopped onion
2 garlic cloves, minced
2 cups shredded cooked chicken breast (about 10 oz)
1 cup frozen whole-kernel corn
1/4 cup dry white wine
1 Tablespoon chopped seeded jalapeno pepper
1 teaspoon ground cumin
1 teaspoon Worcestershire sauce
1/2 teaspoon chili powder
2 (14 1/4 oz.) cans chicken broth
1 (14.5 oz.) can diced peeled tomatoes, undrained
1 (10 3/4 oz. ) can condensed tomato soup, undrained
1 1/4 cups crushed unsalted baked tortilla chips (about 16)
1/2 cup fat-free sour cream (optional)

Heat olive oil in a Dutch oven over medium-high heat. Add onion and saute until the onion is soft, about 5 minutes. Add the garlic and saute for another 2 minutes. Stir in chicken and next 9 ingredients (chicken through tomato soup); bring to a boil. Reduce heat, and simmer 1 hour. Ladle soup into bowls; top with tortilla chips and sour cream, if using.

Yield: 8 cup-size servings

One year ago: English Muffins
Two years ago: Grandmother Paula's Sour Cream Pound Cake
Three years ago: Skillet Shrimp and Rice


Print This Recipe