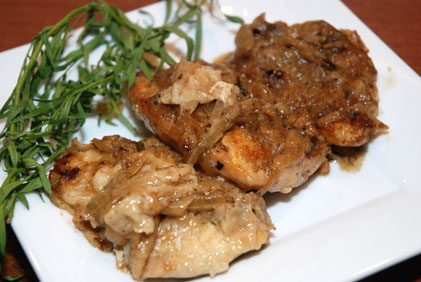 I made this for a dinner party the other night, and I thought it was delicious.  This picture doesn't really do it justice.   During the middle of dinner, it dawned on me that I hadn't photographed the chicken, so I threw a couple of pieces on a plate, put some tired tarragon next to it and asked my husband to photograph it.   It really did taste better than it looks.
I like this recipe because you can make it in advance of your dinner party.   When we throw dinner parties, I am inevitably in the kitchen until we sit down to dinner, and one of my goals going forward is to have everything ready in advance so I can talk to the guests when they arrive.  For me, this is a very lofty goal, and although this chicken dish was ready in advance, along with the dessert and one of the side dishes, I still found myself fussing in the kitchen when the guests arrived.  There were potatoes to reheat, salad dressing to make, etc.
I actually made the dessert (this chocolate cheesecake) the night before because the recipe said that it had to chill overnight.   When I served it, it tasted burned and I consequently thought it was awful, so you won't see my version of it posted on this site.   My guests were all very kind and told me they thought it tasted good, but when everyone left, my husband agreed with me.   He's great for honest reviews and he's definitely my best critic.   He liked the chicken.
Chicken with Vinegar and Onions
Adapted from Fine Cooking, March 2007

3 Tbsp. unsalted butter
2 medium-small yellow onions, thinly sliced (about 2.5 cups)
Kosher salt and freshly ground black pepper
3 Tbsp. Champagne vinegar
6 boneless, skinless chicken breasts cutlets
1/2 cup all-purpose flour
2 Tbsp. extra-virgin olive oil
1/2 cup dry white wine such as Sauvignon Blanc or Pinot Gris)
2 tsp. chopped fresh tarragon leaves
2 Tbsp. creme fraiche (or heavy cream)

In a 12-inch skillet, melt 2 Tbsp. of the butter over medium heat.  Add the onions, sprinkle with a couple of big pinches of salt and a few grounds of pepper, and stir to coat the onions.  Cover, reduce the heat to medium low, and continue to cook, stirring occasionally, until the onions are tender and lightly browned, about 20 minutes.  Scrape them into a small bowl and set the skillet over medium-high heat.  Add 1 Tbsp. of the vinegar and stir with a wooden spoon to dissolve any browned bits on the bottom of the pan.  Pour the vinegar into the onions and set the skillet aside.

Spread the flour in a pie plate and season the chicken pieces with salt and pepper.  Set the skillet over medium-high heat and add the olive oil and the remaining 1 Tbsp. butter.  While the butter melts, dredge half of the seasoned chicken breasts in the flour, shaking off the excess.  Place them in the skillet. and brown each side.  There is no need to cook the chicken completely in this step, as it will cook again in its sauce.  Transfer the chicken pieces to a pan or platter and repeat with the remaining chicken.

When all the chicken is browned, pour off all of the fat if there is any.   Return the skillet to medium high heat, add the wine, and scrape the bottom of the pan with a wooden spoon to dissolve the drippings.   Add the remaining 2 Tbsp. of vinegar, the sauteed onions and 1 tsp. of the tarragon.  Return the chicken pieces to the skillet, arranging them in a single, snug layer.  Partially cover, leaving a small gap for the steam to escape, and lower the heat to maintain a low simmer.   Continue to simmer gently, turning every 5 minutes until the chicken is tender and cooked through, about 10-15 minutes total.

Transfer the chicken to a platter.   Increase the heat to a more rapid simmer, and stir in the creme fraiche (or cream).  The sauce may appear broken at first, but it will come together.  Taste for salt and pepper.   Add the remaining 1 tsp. tarragon and spoon over the chicken to serve.

Note:  This dish can be made a day or two ahead, but don't add the last teaspoon of tarragon.  Reheat gently in a covered baking dish in a 325 degree oven for about 20 -30 minutes, adding a few tablespoons of water or chicken broth if the chicken appears dry.   Sprinkle with the tarragon and serve.

Yield:  4 servings

Print This Recipe