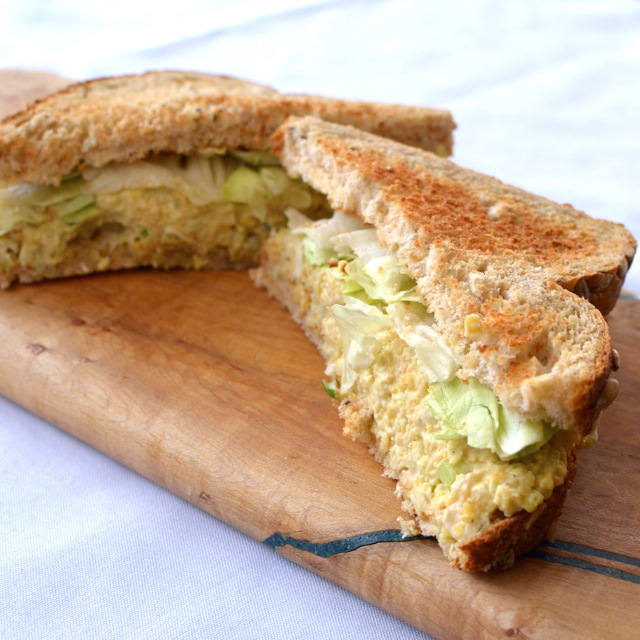 This is like a vegetarian tuna salad sandwich, and it's just about as quick to make as tuna salad is. It doesn't exactly taste like tuna, but it definitely holds together like tuna salad, and it's nice and tangy because of the vinegar in it. With all of the news about mercury in tuna and tuna being overfished, why not eat a tasty vegetarian salad instead? I understand that using the umeboshi (or ume plum) vinegar called for in the recipe gives the salad a seafood-like flavor. I couldn't find the specialty vinegar at any of my local stores and didn't want to order a bottle at great expense in case I didn't like it, so I substituted red wine vinegar and I thought the salad was delicious. If I ever see a bottle of umeboshi vinegar in a local store, I might try it, but until then, I'm happy with my red wine vinegar.
It's very easy to make this recipe if you have a food processor. If you don't have a food processor, you can absolutely make the salad by hand by crushing the chickpeas with a fork, but a food processor makes it so much easier.
If you do decide to eat tuna instead of this delicious vegetarian salad, here's a guide to which types are best to eat. And if you do decide to switch to chickpeas, here's a link to some of their benefits.
Chickpea of the Sea Sandwich
Recipe from The Kitchn

1 (15.5-ounce) can chickpeas, drained and rinsed
1/4 cup mayonnaise
1 tablespoon whole grain mustard
1 1/2 tablespoons umeboshi vinegar or red wine vinegar
2 teaspoons celery seeds
1/4 cup chopped celery, from about one rib
2 tablespoons sliced scallions, from about about two scallions
Pinch cayenne pepper, optional
Freshly ground black pepper
Sliced whole grain bread
2 to 4 lettuce leaves, washed and dried well

Place chickpeas in the bowl of a food processor and pulse two or three times to roughly chop. Add remaining ingredients and pulse two or three times more to fully incorporate.

If making two sandwiches, place the lettuce leaves on two slices of bread. Spoon on the Chickpea of the Sea and top with the other slice of bread. Cut in half and enjoy!

Yield: 2 – 3 sandwiches

One year ago:Smooth and Creamy Polenta
Two years ago:Spring Root Vegetable Casserole
Three years ago: Gail's Rolled Sugar Cookies with Piped Icing
Four years ago:Avocado-Mango Salad
Five years ago:Chocolate Chip Biscotti
Six years ago:Curried Carrot Soup
Seven years ago:Butterscotch Blondies
Eight years ago:Crispy Salted Oatmeal White Chocolate Cookies

Print This Recipe