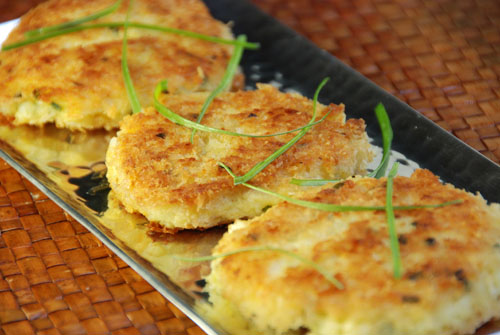 Every now and then I like to eat a vegetarian meal, and tomorrow is Good Friday so it was a perfect time to try these risotto cakes. Boy, are they good. I mean, they're really incredible. They're pretty easy to make too, but you have to plan in advance because once you mix up the ingredients they need at least two hours or even overnight to chill in the refrigerator. They need to thoroughly chill or they'll fall apart in the pan when you try to cook them.
The beauty of this recipe is that you don't have to have leftover risotto to make it.   You make the risotto specifically for this recipe, and you don't make it in the traditional way which I find to be very labor intensive.   All you do is boil the rice like pasta!
Our friend Len came over to pick something up tonight and decided to stay for dinner, so he was put to work.   I was giving the boys haircuts (I refuse to pay $30 per child to have their hair cut at Cozy's Cuts!) so I asked him to cook the risotto cakes.   I had mixed up all of the ingredients earlier in the day and the mixture was chilling in the refrigerator.   I gave him a ice cream scoop and a pan with some olive oil in it and off he went.    He did a great job cooking them.    He also plated them for the pictures.   A new West Elm store opened in our neighborhood recently and I went in today for the first time.   I bought a couple of new plates for photographing food, which you'll see in these pictures.   Although I like them, I'm not sure they were the greatest for showing off these risotto cakes.   The brown plate is definitely too busy and the metallic tray didn't add much either.   Oh well!
I'm going to attempt to serve these to the boys today.   I'll bet anyone a buck that they won't touch them.  Any takers?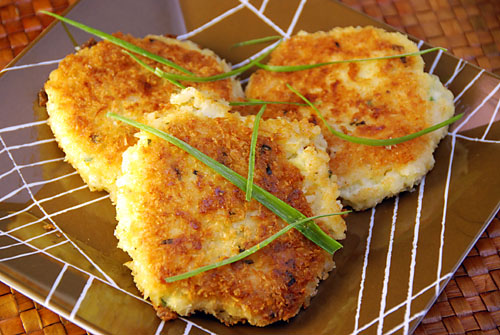 Chive Risotto Cakes
From Back to Basics by Ina Garten

Kosher salt
1 cup uncooked Arborio rice
½ cup Greek yogurt
2 extra-large eggs
3 tablespoons minced fresh chives
1 ½ cup cups grated Italian Fontina cheese (5 ounces)
½ teaspoon freshly ground black pepper
¾ cup panko (Japanese dried bread flakes)
Good olive oil

Bring a large (4 quart) pot of water to a boil and add ½ tablespoon salt and the Arborio rice. Cook, stirring occasionally, for 20 minutes. The grains of rice will be quite soft. Drain the rice in a sieve and run under cold water until cool. Drain well.

Meanwhile, whisk together the yogurt, eggs, chives, Fontina, 1 ¼ teaspoons salt, and the pepper in a medium bowl. Add the cooled rice and mix well. Cover with plastic wrap and refrigerate for 2 hours or overnight, until firm.

When ready to cook, preheat the oven to 250 degrees.

Spread the panko in a shallow dish. Heat 3 tablespoons olive oil in a large skillet over medium-low heat. Form balls of the rice mixture using a standard (2 1/4 –inch) ice cream scoop or a large spoon. Pat the balls into patties 3 inches in diameter and ¾ inch thick. Place 4-6 patties in the panko, turning once to coat. Place the patties in the hot oil and cook, turning once, for about 3 minutes on each side until the risotto cakes are crisp and nicely browned. Place on a sheet pan lined with parchment paper and keep warm in the oven for up to 30 minutes. Continue cooking in batches, adding oil as necessary, until all the cakes are fried. Serve hot.

Yield:  ~12 cakes

Print This Recipe