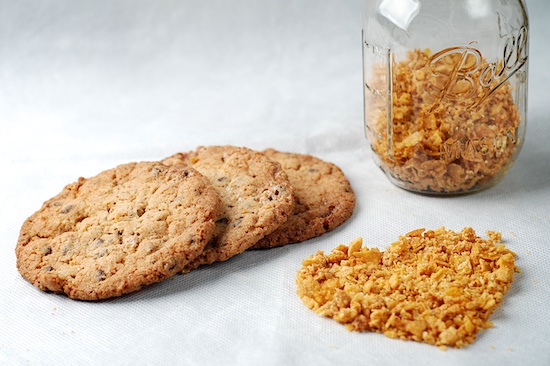 There's a famous bakery in Manhattan called the Momofuku Milk Bar.   Christina Tosi is the chef, owner and founder.   I have been intrigued by the bakery since I first heard of it and its wonderfully named baked goods.   Some of their specialties include: crack pie, compost cookies, cereal milk and these cornflake crunch cookies.
I don't think these cookies look like anything particularly special, but wow, are they good.   They're very crispy and crunchy and they taste like toffee.  All that said, I did find them a little finicky to bake.  They're a bit of a project all around, actually. You have to start by making the cornflake crunch, which isn't difficult, it just takes time. Once that cools, you can start the cookies, but once the dough is made, it has to chill for at least an hour before you bake it.
I found that I had to watch these cookies closely while they were baking. They go from looking quite underdone to completely done very quickly, and if you don't watch, it's easy to overcook them. You want to take them out of the oven when they just become completely golden brown. The centers will be the last part to brown, but when they do, take the cookies out of the oven immediately.
I had some extra cornflake crunch, so I used it as a mix-in for yogurt. It was delicious!

Chocolate Chip Marshmallow Cornflake Crunch Cookies
Recipe from the Momofuku Milk Bar Website

Cornflake Crunch

5 cups cornflakes
½ cup milk powder
3 tablespoons sugar
1 teaspoon salt
9 tablespoons butter, melted

Preheat oven to 275°.

In a medium bowl, with your hands, crush cornflakes to 1/4 of their original size. Add milk powder, sugar, and salt; toss to mix. Add butter; toss to coat. (As you toss, the butter will act as glue, binding the dry ingredients to the cereal, creating small clusters.)

On a parchment- or Silpat-lined sheet pan, spread clusters and bake for 20 minutes, at which point they should look toasted, smell buttery, and crunch gently when cooled slightly and chewed.

Cool completely before storing or using in a recipe. Stored in an airtight container at room temperature, the crunch will keep fresh for one week; in the fridge or freezer, it will keep with one month.

 Chocolate Chip Marshmallow Cornflake Cookies


2 sticks room-temperature butter
1¼ cups granulated sugar
2/3 cup light brown sugar, tightly packed
1 egg
½ teaspoon vanilla extract
1½ cups flour
½ teaspoon baking powder
½ teaspoon baking soda
1½ teaspoon kosher salt
3 cups Cornflake Crunch
2/3 cup mini chocolate chips
1¼ cups mini marshmallows

In the bowl of a stand mixer fitted with the paddle attachment, combine butter and sugars; cream together on medium-high 2-3 minutes. With a spatula, scrape down sides of bowl, then add egg and vanilla and beat 7-8 minutes.

Reduce speed to low; add flour, baking powder and soda, and salt. Mix just until dough comes together, no longer than 1 minute. (Do not walk away from the machine during this step or risk overmixing.) Scrape down sides of bowl.

Still on low speed, paddle in cornflakes and chips until just incorporated, about 30-45 seconds. Stir in the marshmallows.

Line a sheet pan with parchment paper. Using a 2-oz. ice cream scoop, portion 1/3 c. dough at a time onto pan. Pat tops of dough domes flat. Wrap pan tightly in plastic wrap and refrigerate for at least 1 hour or up to 1 week. (Do not bake room-temperature disks — they will not hold their shape.)

Preheat oven to 375°. On a parchment- or Silpat-lined sheet pan, arrange chilled disks a minimum of 4 inches apart. Bake ~18 minutes (or bake for less time if you're making smaller cookies), until cookies are browned on edges and just beginning to brown toward the center. Cookies will puff, crackle, and spread. Leave them in oven for another minute or so if they still seem pale and doughy on the surface.

Cool cookies completely on pan before moving them to a plate or an airtight container for storage. At room temperature, cookies will keep fresh for 5 days; in the freezer, they will keep for 1 month.

Yield: 15 – 20 very large cookies

Two years ago: Orange pound Cake
Three years ago: Baked Tortilla Chips
Four years ago: Baked Sweet Potato "Fries"
Five years ago: Wheatberry Salad

Print This Recipe