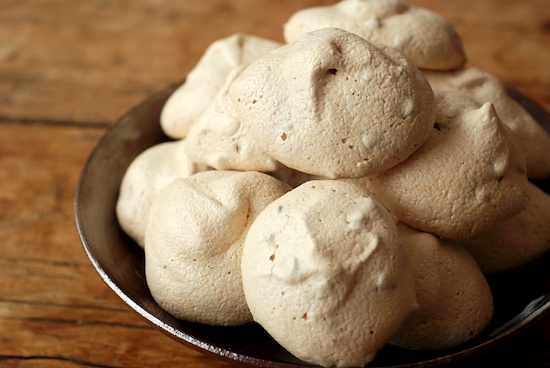 What do you do when you have 8 extra egg whites? You make meringues! In the winter, specifically around the holidays, I make these meringues dipped in mint chocolate. They're really delicious, but they seem holiday-like to me, so I looked for another recipe. I've always wanted to try chocolate chip meringues, and these are delicious!   They have a great ratio of chips to meringue.
If you try to make these, be sure to follow the directions when whipping the egg whites and adding the rest of the ingredients. Meringues can be a bit finicky and if you don't mix the ingredients at the right time, your meringues could be a flop like the first batch that I made the other day. I didn't mix things at the proper time and consequently the egg whites never formed stiff peaks. No amount of whipping would do it. The batch was ruined. I tried to cook them anyway, but they were really terrible.
I found this recipe on a website called Smitten Kitchen (it's one of my favorite blogs). The recipe is interesting in that the baking temperature is higher than I'm used to and the meringues cook for a shorter period of time. I'm used to putting the meringues in the oven in the evening, cooking them for a while, then turning off the oven letting the meringues sit there overnight. This new technique was perfect for me because I was able to make the cookies in an afternoon for the boys. No waiting until the next day for cookies.
I learned something when making these cookies. I learned that in meringues, lemon juice is a good substitute for cream of tartar (when you don't have any and don't feel like running to the store.) You can apparently also use vinegar as a substitute for cream of tartar in meringues. I had a lemon on hand, so I used that and it worked perfectly. The recipe calls for 1/2 – 3/4 cup of sugar. I opted to try 3/4 cup of sugar because I was introducing lemon juice and I wanted to make sure the cookies were sweet enough. Boy, were the cookies sweet. I think I could have used 1/2 cup of sugar and they still would have been delicious.
If you decide to try these, do follow the directions so your meringue is perfect.
Chocolate Chip Meringues
Recipe found on SmittenKitchen.com

2 egg whites, room temperature
1/4 teaspoon salt
1/8 teaspoon cream of tartar (or scant 1/4 teaspoon lemon juice)
1 teaspoon vanilla
1/2 to 3/4 cup regular or superfine sugar (3/4 cup makes a really sweet cookie)
6 ounces mini chocolate chips

Preheat oven to 300°F. Line a baking sheet with parchment paper.

Put the egg whites into a metal mixing bowl (I used my stand mixer.) Whip them until they're foamy. (Use the whisk attachment if you're using a stand mixer). Once the eggs look foamy, add the salt, cream of tartar (or lemon juice) and vanilla and keep whipping until the egg whites hold soft peaks. At this point, gradually add the sugar and continue whipping until the egg whites are glossy and hold stiff peaks. Fold in the chocolate chips.

Using a tablespoon, spoon the batter onto the baking sheets leaving a couple of inches between each cookie. Bake for 25 – 30 minutes. The bottoms of the cookies should be slightly golden. If the cookies are cooked and you don't plan to eat them immediately, you can turn off the oven and leave the cookies in the oven to dry out even further.

Yield: ~18 – 24 cookies (depending upon how big you make them)

One year ago: Blueberry Crumb Cake
Two years ago: Fresh Corn and Avocado Salad

Print This Recipe